Atlanta Falcons: Julio Jones finishes in top 10 of NFL Top 100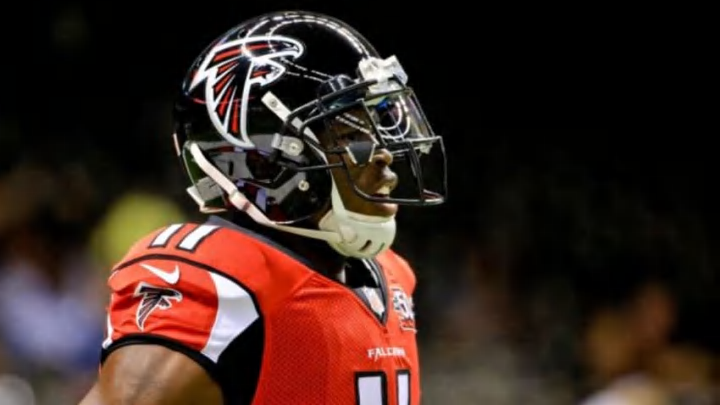 Oct 15, 2015; New Orleans, LA, USA; Atlanta Falcons wide receiver Julio Jones (11) before a game against the New Orleans Saints at the Mercedes-Benz Superdome. Mandatory Credit: Derick E. Hingle-USA TODAY Sports /
Julio Jones is officially one of the NFL's top 10 players.
After a dominant season in the red and black, Jones was rewarded with a spot inside the top-10 of the NFL Network's Top 100 Players for 2016. The Atlanta Falcons wideout heard his name called at No. 8 on the list.
Jones' inclusion was the Falcons' second after Devonta Freeman was picked at No. 50. The most notable absence was Desmond Trufant, who somehow failed to make it at all. Matt Ryan's drop out of the list is understandable to some degree, but not Trufant's.
For Jones, we knew he was going to land in the top-10 at some point, but it was unclear when exactly his name would be called.
Top 10 of the Top 100
1. Cam Newton, Panthers
2. Tom Brady, Patriots
3. J.J. Watt, Texans
4. Antonio Brown, Steelers
5. Adrian Peterson, Vikings
6. Aaron Rodgers, Packers
7. Luke Kuechly, Panthers
8. Julio Jones, Falcons
9. Rob Gronkowski, Patriots
10. Odell Beckham, Giants
The group is incredibly strong, and any arrangement of these 10 players could have been argued. Jones, as dominant as he has been, was never going to be top of the list and was always more likely to fall into the second half of the top-10.
It's somewhat surprising to see Tom Brady's name at No. 2, four places ahead of Aaron Rodgers. Cam Newton may be the MVP, but if you had the choice of any player to join your team, would he be the first? I'm not so sure.
What else is notable is the dominance towards offense. Three quarterbacks make the top-10, as do three wide receivers, a running back and tight end. Only two defensive players — J.J. Watt and Luke Kuechly — make the cut.
Why isn't Von Miller in the top-10? It was Miller's dominance in Super Bowl 50 that led the way to the Broncos' glory.
Jones was the second ranked receiver on the list behind only Antonio Brown. Odell Beckham Jr. was deserving of a spot in the top-10, but it's no surprise to see him fall into third at the position behind Brown and Jones.
Next: What Andrew Luck's contract means for Matt Ryan
What are your thoughts on the list, Falcons fans? Should Jones have been placed any higher, lower? What changes would you make to the list?