Atlanta Falcons News: Who is the biggest rising star in the NFC South?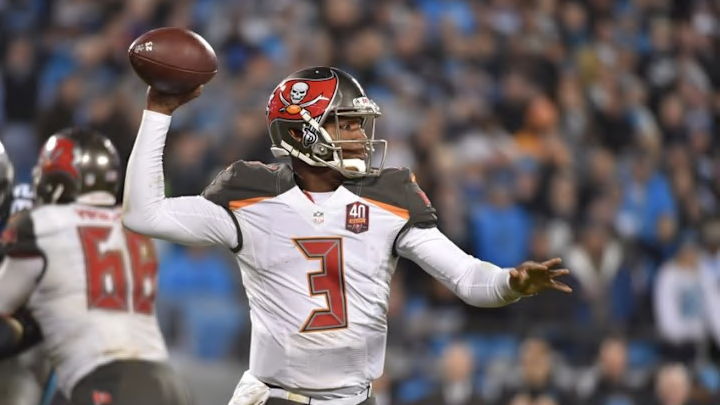 Jan 3, 2016; Charlotte, NC, USA; Tampa Bay Buccaneers quarterback Jameis Winston (3) looks to pass in the third quarter. The Panthers defeated the Buccaneers 31-10 at Bank of America Stadium. Mandatory Credit: Bob Donnan-USA TODAY Sports /
The Atlanta Falcons want their fans to make more of an impact on defense this year. Who is the rising star in the NFC South? That and more in Tuesday's Dirty Bird Daily.
Good morning, Falcons fans and welcome to the Dirty Bird Daily for Tuesday. We're counting down to the start of the regular season, and we're now just 61 days away from the Falcons' season opener against the Buccaneers.
For those of you that followed along with our "Falcons 50" countdown last year, we'll be starting it all again a week from Saturday. For those that didn't, check out last year's countdown here to get an idea of what it involves.
Let's get started with the Dirty Bird Daily. As you sip your coffee this fine Tuesday morning, enjoy these Falcons articles from around the internet.
Falcons want to get the crowd involved on defense in 2016 — Dave Choate of The Falcoholic
Dan Quinn knows all about having a loud crowd behind you having spent time as defensive coordinator in Seattle. The Falcons want more of this themselves, and Quinn said he wants games in Atlanta to be an environment like no other, getting in the heads of opposing quarterbacks. The best way to achieve this is to produce better play on the field. Give the fans a reason to cheer.
NFC South Q&A: Who is the rising star in the division? — ESPN
Who is the biggest rising star in the NFC South? As much as I would love to pick Devonta Freeman as my choice, Jameis Winston gets the nod. As a whole, the ESPN NFC South writers agree with me.
Next: Atlanta Falcons: Top 20 games in franchise history
Grading Falcons GM Thomas Dimitroff: the 2010 draft class — The DW of The Falcoholic
The Falcons' 2010 draft class left a lot to be desired, which is in stark contrast to the Seahawks that year. Seattle selected Russell Okung, Earl Thomas, Golden Tate, Walter Thurmond and Kam Chancellor. Talk about a great draft class. Imagine the Falcons had done the same.