Atlanta Falcons: No contract done, Devonta Freeman reports anyway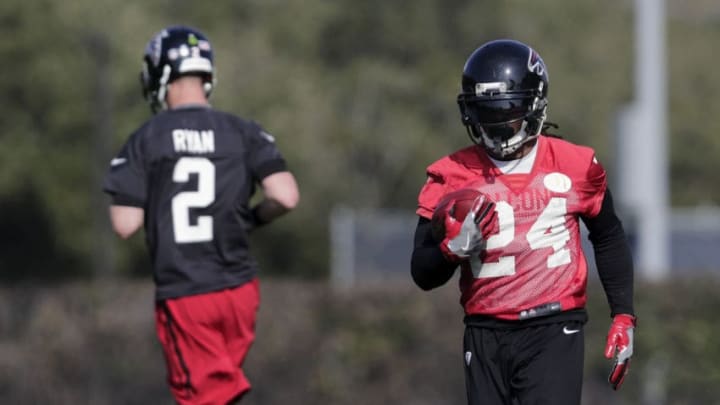 HOUSTON, TX - FEBRUARY 02: Devonta Freeman /
He may not have gotten the new contract he wanted, but Atlanta Falcons running back Devonta Freeman showed up for training camp just the same
There's been a lot of talk this offseason about running back Devonta Freeman and the Atlanta Falcons coming to terms on a lengthy contract extension. So far, that hasn't happened despite the wishes on both sides to do so before the start of training camp as reports emerged that the agent for the running back left Atlanta without a new deal imminent.
However, Freeman didn't allow that to become a distraction. The fourth-year running back reported to camp Wednesday, even without his new deal as reported by the Atlanta Journal-Constitutional.
""Freeman did not report during the open media period from 11:30 to 1 p.m., but apparently arrived later." — D. Orlando Ledbetter of the Atlanta Journal Constitutional"
Freeman was effective over the past two seasons as he recorded 1,056 yards and 11 touchdowns in 2015 and added another 11 scores and 1,079 yards in 2016. The former fourth-round pick out of Florida State has become better than they could have hoped, but the leverage appears to be with Atlanta on this one.
Not only does Freeman play a position highly regarded as easily replaceable, but he also has a guy behind him the Falcons could trust as a full-time back. 2015 second round pick Tevin Coleman averaged just four-tenths of a yard per carry less than Freeman in 2016 and had 520 yards as well as eight touchdowns in his second season.
Behind him they have rookie fifth-round pick Brian Hill. The Wyoming product had 4,287 yards in three seasons. He had an impressive 22 of his 35 career touchdowns in 2016 before turning pro.
Next: Atlanta Falcons: Top Five Offensive Players
The Falcons want to extend Freeman, but there's nothing saying they have to. As it stands now, he's in camp and expected to practice tomorrow when Atlanta gets things going for the 2017 season.