Atlanta Falcons: A Closer Look at C. J. Goodwin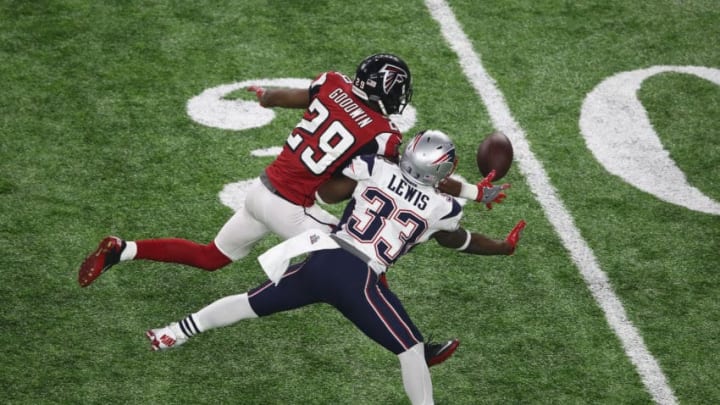 HOUSTON, TX - FEBRUARY 05: C.J. Goodwin (Photo by Ezra Shaw/Getty Images) /
A Closer Look at C. J. Goodwin one of the cornerbacks pressed into action for the Atlanta Falcons in 2016 following Desmond Trufant's injury
The Atlanta Falcons find themselves in a position unprecedented in recent team history, as they enter the 2017 campaign with a defensive backfield stacked full of young, talented play-makers. With attention focused on shutdown cornerback Desmond Trufant and hard-hitting Safety Keanu Neal, let's take a closer look at one of the lesser known components of the Brotherhood: C. J. Goodwin.
Goodwin has faced an uphill battle since entering the league in 2014 when the Pittsburgh Steelers signed him as an undrafted free agent. He then joined the Falcons' practice squad in 2015 and made the difficult transition from wide receiver to cornerback. This makes his promotion to the 53 man roster in 2016 all the more impressive. There have been no signs of slowing down for Goodwin as he continues to progress and flash skills which have already caught the attention of head coach Dan Quinn throughout the 2017 Training Camp.
Goodwin spent the majority of his snaps in 2016 on special teams where he recorded 10 of his tackles. But due to the Falcons facing a number of prolific passing offenses, and starter Desmond Trufant succumbing to injury, he did see action on the defensive side of the ball. In Week 8 against Aaron Rodgers and the Green Bay Packers, Goodwin is credited with a tackle and two passes defended.
The biggest test for Goodwin obviously came at the end of the season when the Falcons faced the New England Patriots in Super Bowl LI. Despite only seeing 16 plays on defense, Goodwin put in a respectable performance. He displayed good coverage skills in the second quarter, breaking up a deep pass intended for receiver Malcolm Mitchell.
Then two plays later he forced the Patriots to punt after a solid open field tackle on running back James White. Goodwin struggled in the 4th quarter when he lost his footing covering Mitchell on a deep curl. This completion allowed a key third down conversion on a drive which ultimately led to a New England touchdown.
Next: Atlanta Falcons: 3 Potenital Veteran Cuts
Despite a mediocre 2016, Goodwin has shown flashes of potential and he now has a solid platform to build from. Given his physical attributes, 6′ 3″ and 190lbs, if he continues to develop as he has he will provide fierce competition for Jalen Collins and Brian Poole at the cornerback position.