Atlanta Falcons: Random Thoughts from Week One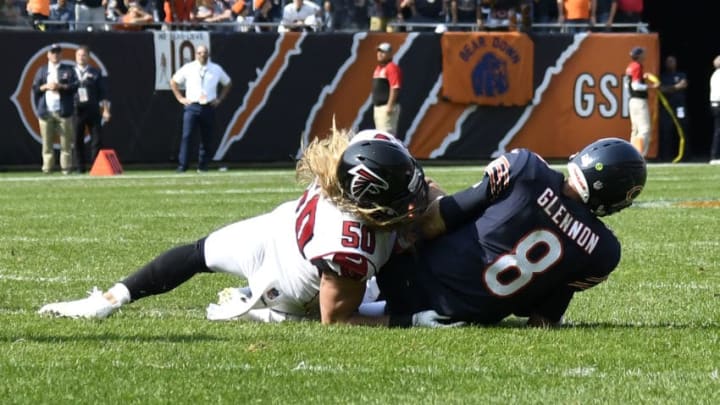 CHICAGO, IL - SEPTEMBER 10: Brooks Reed /
Quick hit reactions from the Atlanta Falcons first game against the Chicago Bears just ahead of their Week 2 matchup and home debut against Green Bay
I already like return man Andre Roberts more than Eric Weems for the Atlanta Falcons. He may not contribute on coverage units like Weems did, but he's faster, more explosive, and more elusive. He also makes better decisions.
Penalties overall need to get cleaned up, but especially on special teams.
Derrick Coleman was underwhelming as a fullback, but he made his presence felt on the special teams coverage units.
Tackling was particularly bad against the Chicago Bears. Too many players going for big hits instead of wrapping up.
Discipline defensively was also an issue. The Bears were able to take advantage of Atlanta's speed and aggressiveness defensively, especially on Tarik Cohen's big run. They're going to need to be far more under control against a much more potent Packer offense Sunday night.
Guard Wes Schweitzer was the clear weak link on offense. Still, it was his first NFL regular season game, and he drew a huge (literally and figuratively) assignment in defensive lineman Akiem Hicks. I though Schweitzer did play better in the second half. There will be growing pains, but I think 71 will be all right.
The Falcons got lucky early in the game – there's no way that Mohamed Sanu catch was for a first down.
I actually didn't have an issue with the play calling from either offensive coordinator Steve Sarkisian or defensive coordinator  Marquan Manuel. The execution of the plays called wasn't always spectacular, but I never found myself thinking, 'Why in the hell are they doing that?'
There's an enviable amount of depth in the front seven, even after having to release defensive tackle Ra'Shede Hageman. Nose tackle Dontari Poe, defensive tackles Grady Jarrett, Jack Crawford and Adrian Clayborn, defensive ends Derrick Shelby, Brooks Reed and Takkarist McKinley, as well as linebacker Vic Beasley may not necessarily be household names, but as a unit they look to have a ton of potential.
Speaking of potential, do you think tight end Austin Hooper needs to be targeted more?
Brooks Reed needs to get his due. For a guy many people wanted to get cut after struggling his first two years in Atlanta, he was HUGE in this game.
Next: Atlanta Falcons: Keys to Victory in Week 2
Linebacker De'Vondre Campbell was overshadowed by Reed, but he was also a key defender.
It was certainly a heartstopper, but a win is a win. To quote Billy Hoyle from White Men Can't Jump: "I'd rather look ugly and win than look pretty and lose."