Atlanta Falcons vs Philadelphia Eagles: Behind enemy lines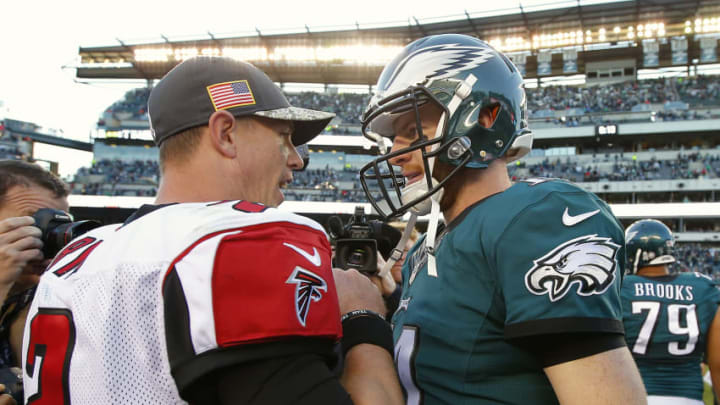 PHILADELPHIA, PA - NOVEMBER 13: Quarterbacks Matt Ryan /
The Atlanta Falcons will take on the Philadelphia Eagles in Saturday's Divisional Round matchup. We sat down with FanSided's Inside The Iggles and spoke with them about the Eagles and what Falcons fans might expect to see.
The Atlanta Falcons will head into Saturday's Divisional Round as sixth seed favorites to defeat the Philadelphia (the NFC's first seed). This is the first time a sixth seed has been favored to defeat a first seed in the Divisional Round.
We wanted to get the inside scoop on the Eagles and touch base with FanSided's Inside The Iggles. Blogging Dirty had some questions for Inside The Iggles and asked that they provide a prediction for Saturday's game. Their response was rather surprising.
Albeit the Falcons are favored to win, the Eagles will provide a challenge. Philadelphia's defensive line is stout, and Atlanta will have to play their best game of the season in order to win.
The Falcons looked impressive against the Los Angeles Rams in the Wild Card round. And the Rams have a solid defensive line. But the Eagles have received a large amount of disrespect from the media leading up to Saturday's game, so needless to say, the Eagles will be more than energized to prove why they are the number one seed.
Let's go ahead and jump to our conversion with Inside The Iggles and get some insight regarding the Eagles.