Atlanta Falcons vs Philadelphia Eagles: Behind enemy lines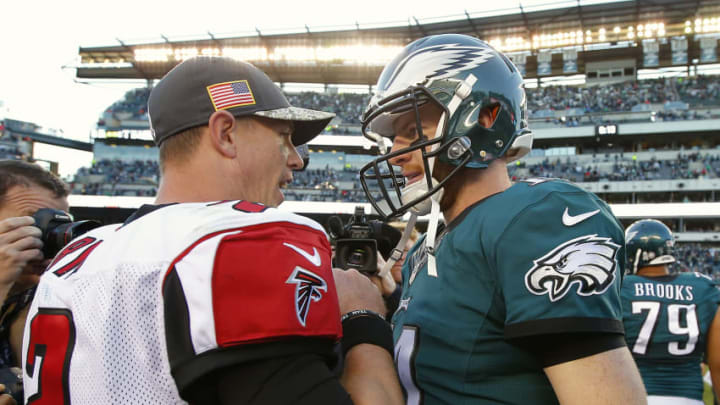 PHILADELPHIA, PA - NOVEMBER 13: Quarterbacks Matt Ryan /
PHILADELPHIA, PA – NOVEMBER 13: Quarterback Matt Ryan /
First, we wanted to ask the Inside The Iggles staff about the Eagles success throughout the 2017 season. Philadelphia finished the regular season as the NFC's first seed for a reason. The Eagles success has multiplied since the previous season and the Blogging Dirty team is curious to find out as to why that is. Here is our first question:
Blogging Dirty: The Philadelphia Eagles are the first seed in the NFC. What do you attribute most to their success?
Inside The Iggles: At times, it would appear that Philly benefited from a hot start. At other times, it feels like this is a good team that despite some late-season struggles just keeps finding ways to win..
The hot start played a role in the overall success or so it appeared, but then, after seeing this team continue to win when the belief was they have peaked to early, it's fair to say this is a battle tested unit that will fight. Now, whether or not they have enough fight to finish is anyone's guess.
Credit good coaching, a great job by Howie Roseman in piecing this roster back together and a ton of resiliency by a team that truly embodied the 'next man up' approach.