Atlanta Falcons vs Philadelphia Eagles: Behind enemy lines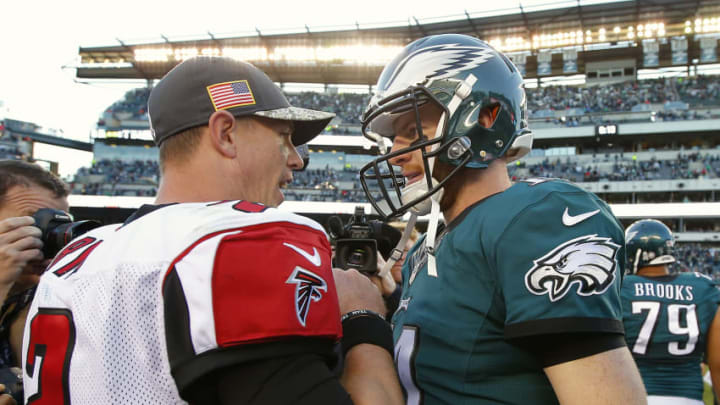 PHILADELPHIA, PA - NOVEMBER 13: Quarterbacks Matt Ryan /
PHILADELPHIA, PA – NOVEMBER 13: Quarterback Matt Ryan /
During the 2017 regular season, the Philadelphia Eagles lost their starting quarterback, Carson Wentz to a season ending injury.
Since that time, backup quarterback Nick Foles has assumed passer duties for Philadelphia. Up to and until his injury, Wentz was considered an MVP candidate. Even despite injury, his name has still come up in MVP talks.
Without Wentz under center, how will this Eagles team perform? Foles will be asked to quarterback opposite Falcons' team leader Matt Ryan. Can Foles lead Philadelphia to victory?
We asked Inside The Iggles about the impact of Wentz's absence…
Blogging Dirty: Eagles quarterback Carson Wentz is out for the season. How has his absence impacted the team?
Inside The Iggles: Well, his absence was felt almost immediately.. Wentz is just capable of doing things that only a few athletes in football can do. Period.
Without Wentz, the Eagles lose a legitimate MVP candidate. We all know Foles, who he is and what he's capable of. He's been here before. Now, can Foles play up to the level we've seen when he is at his best rather than playing down to the level we've seen when he can't get anything to go right? We'll know Saturday.
As an Eagles fan you have to hope that he can.