Atlanta Falcons vs Philadelphia Eagles: Behind enemy lines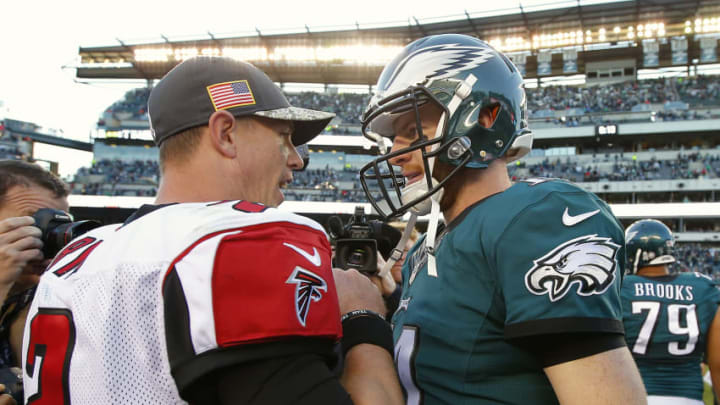 PHILADELPHIA, PA - NOVEMBER 13: Quarterbacks Matt Ryan /
PHILADELPHIA, PA – NOVEMBER 13: Jalen Mills /
How might the Eagles attack the Falcons? What concerns should Atlanta fans have as it pertains to certain Eagles players (either on offense or defense)?
In the Wild Card playoff round, against the Los Angeles Rams, the Falcons had to game plan for (arguably) the best defensive tackle in all of football, Aaron Donald. Donald caused problems for the Falcons, yet Atlanta was able to prevail.
Now the question is, which Eagles player should the Falcons prepare for on Saturday? Or who might Falcons fans need to be concerned with most?
Blogging Dirty: Which Eagles player (offense or defense) should Atlanta Falcons fans be most concerned about and why?
Inside The Iggles: On offense, you have to think the road to victory will travel through the skill guys who are closest to Foles in the formation. By that, I mean the tight ends and running backs figure to play bigger roles than the wideouts, at least in my opinion.
I don't expect to see a ton of high-risk, high-reward plays on offense. instead, I'm expecting a heavy dosage of. LeGarrette Blount, Jay Ajayi & Zach Ertz..
On defense, everyone's necessary. The corners can't bite on double moves. The linebackers have to help in coverage and fly to the ball. The defensive line needs to be solid against the run and put consistent pressure on Matt Ryan.