Atlanta Falcons: Michael Vick gave us more than we think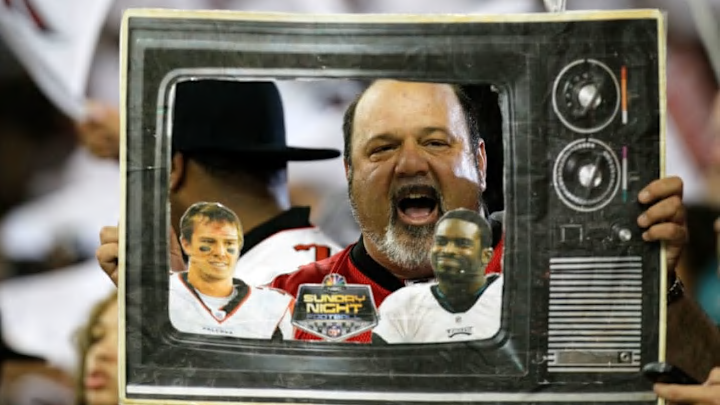 ATLANTA, GA - SEPTEMBER 18: A football fan holds a cut out with pictures of (L-R) Matt Ryan of the Atlanta Falcons and Michael Vick of the Philadelphia Eagles at Georgia Dome on September 18, 2011 in Atlanta, Georgia. (Photo by Kevin C. Cox/Getty Images) /
With the first pick in the 2001 NFL Draft, the Atlanta Falcons select quarterback Michael Vick, Virginia Polytechnic Institute and State University.
What could have been for the Atlanta Falcons.
For two years the football world watched Mike Vick make college football defenses look pedestrian. Whether it was the 2000 Sugar Bowl versus Florida State in the national championship game (where he was clearly the best player and athlete on field) or a Big East game versus national power Miami, he was electric and now he was an Atlanta Falcon.
The most electrifying player in sports since prime Michael Jordan was now coming to OUR city and was going to lead our franchise to new heights; this just a few years removed from their first Super Bowl appearance. Stars were aligning for the Atlanta Falcons.
On a personal note, I got to know Mike a little bit his first couple years with the team. At the time, the Falcons were still holding camp at Furman and I was a retail manager in Greenville. A couple of my employees were also Furman players – including 1AA All-American Brian Bratton, who would spend time with the Falcons before winning several Gray Cups in Canada. Brian was hired by the Falcons to be Mike's right-hand man and that gave me access to the NFL's newest star. The only thing I will say about him, even at a young age, he was a very caring individual who was highly aware of his star power and was always willing to donate his time to help.
The Atlanta Falcons thought they had their franchise quarterback, the signal caller that was going to lead this team to not just one Lombardi trophies, but many. Man were there some exciting time at the Georgia Dome with number 7 on the field.
His highlights will still be seen for the next century and have fans wondering what ever happen to him. Fans will wonder how a guy that was supposed to change a position, never did. How did a player who had all that talent never have back to back winning seasons? How did the first quarterback to ever win a road playoff game in Green Bay never even appear in the Super Bowl?
We all know what happen, there is no need to rehash the nonsense from 2006. The best thing Michael Vick ever gave us will always be Matt Ryan. Matt Ryan has been everything we wanted 7 to be. He may not be as flashy, as fast or elusive but number 2 has given this franchise more than any player that has ever worn the uniform has – more wins, more yards, more playoff births, more division titles and more to celebrate.
On what is the 18th anniversary of the Falcons drafting Michael Vick, take a minute to thank him for Matt Ryan.