A Note to Atlanta Falcons Fans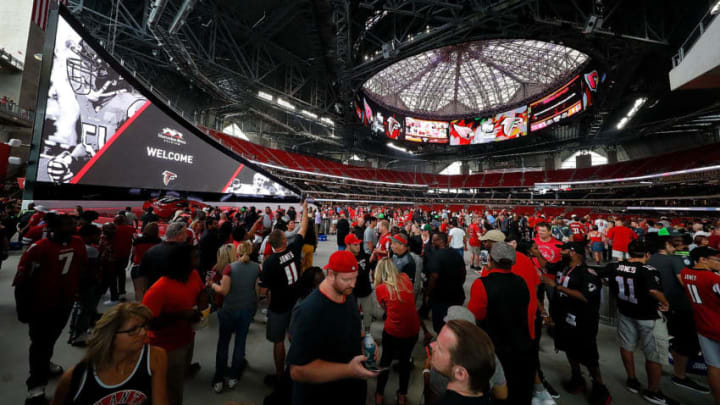 The Atlanta Falcons addressed needs and built depth their 2019 NFL draft selections, however, that does not seem to be enough for many among the fan base.
Alright Falcons fans, lets talk. The 2019 NFL Draft is in the books and from the looks of social media, you guys aren't thrilled with the choices made and frankly, I'm a little confused by it. Now, I know "you guys" is an all-encompassing phrase and there are plenty of you who are actually quite please with the direction the team took.
So for you, read this for pure enjoyment. For the rest, WHAT DO YOU WANT!? For years now, Fans and analyst alike have scrutinized the organization for the abysmal offensive line play and during those years, the Falcons never took the appropriate steps to address the issue.
The last time the Falcons drafted a lineman in the first round was Jake Matthews back in 2014. Yes, he struggled early in his career, but now Matthews and Alex Mack are the lone bright spots on the offensive line. Fast forward to 2019, the Falcons have made an effort to fix the one glaring problem with this team.
Instead of digging in and going best available skill positions, they went out and address the need. Yet, looking around the twitterverse, people are bashing the approach taken. Explain how that makes any sense. There is a need and they addressed the need. Fans still aren't satisfied. Passionate fans are amazing and Falcons fans have some unbelievable people cheering them on, but, why don't these picks don't sit well with a large portion?
You can make an argument that trading up late in the first round to take the fourth or fifth best available at the position was a curious selection. Other than that, the picks were exactly what this team needed. Skill positions and most defensive spots are in good shape so there is no real reason to lobby for those.
Continue to be passionate, but also, realize that the Falcons have established themselves as a top team in the NFL. Trust the front office for a little while and see how it pans out before throwing them to the wolves.