Atlanta Falcons showed the wrong type of fight on Sunday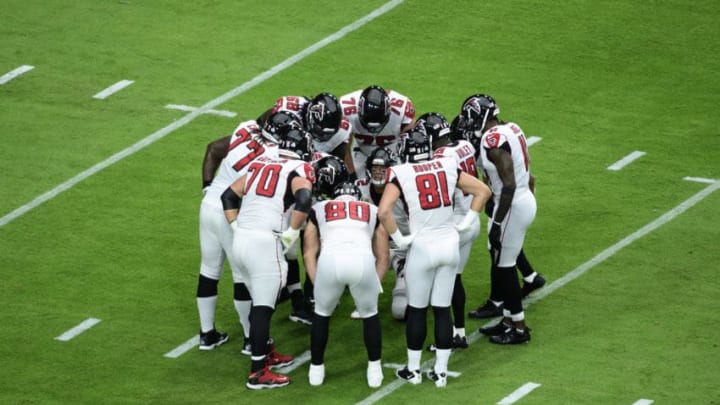 The Atlanta Falcons continue to mystify NFL another poor effort  Sunday against the Rams, falling to 1-6.
The latest loss for the Atlanta Falcons is symbolic of the disaster of the season that has been. Players tried to make plays and didn't. In fact, even their attempt to hustle worked against them. Most notably Russell Gage's attempt to field a punt in the waning moments, fumbling and the Rams recovering for a touchdown.
But even worse than that, the Falcons showed the wrong kind of fight. Looking at you Devonta Freeman. After a normal non-productive day at the office, Freeman decided to pick a fight with the man who wears his Madden rating on his jersey in Aaron Donald.
And because the offensive line couldn't beat him, Freeman decides a punch will be the best way to do that. Regardless of the fact that the referee tackled the Falcons running back harder than any hit an Atlanta defensive player made, this skirmish pointed to one thing. /
The Atlanta Falcons are an undisciplined team. It's the National Football League and a $40 million running back is throwing jabs like he's attempting a run for the MMA. That's a lack of discipline.
The Falcons also lead the league in penalties accepted against them with 62 through seven weeks. That's about nine penalties a game. Winning in the NFL is tough enough when you're just playing against the other team.
So why play against yourself too?
That's a lack of discipline. Fifteen of those penalties have come on the defensive side of the ball being overseen by the man of the hour Dan Quinn himself. That speaks to the preparation or a lack thereof.
Quinn vowed to get the issue corrected but there hasn't been too much evidence of that. The Falcons have constantly found themselves in worst positions than they need to be, a lot of that is self-inflicting.
This season is already lost, but if the Falcons hope to at least end the season with dignity, it should start in house, without them harming their own cause.