It is lonely being an Atlanta Falcons fan when free agency starts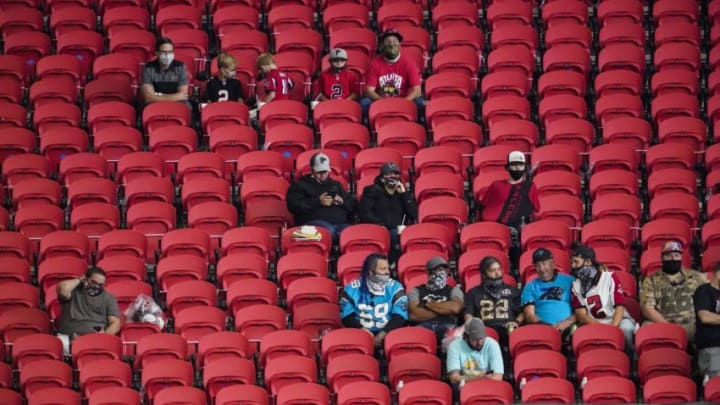 Oct 11, 2020; Atlanta, Georgia, USA; Atlanta Falcons fans shown in the stands against the Carolina Panthers during the second half at Mercedes-Benz Stadium. Mandatory Credit: Dale Zanine-USA TODAY Sports /
It is lonely being an Atlanta Falcons fan.
This time of year for many NFL fans is exciting but not for those of us saddled with the burden of being an Atlanta Falcons fan. Sure, initially that may have been a choice but as the years move on that choice turned to fandom which has always led to heartache.
Regardless of why you became a Falcons fan the fact is you are now stuck and there is nothing you can do now but watch other teams announce their spending frenzy and wonder what it would be like if this franchise had the money and the draw to lure some of these players.
This is the equivalent of being a kid, getting grounded, and then looking out your window and seeing all of your friends having fun outside.
When you have only been to the Super Bowl twice and have the most embarrassing postseason meltdown east of New Orleans, there is nothing that can soothe the pain of knowing your team is coming off of three straight losing seasons when you have no money to spend and no clear direction of where your team is heading in the upcoming draft.
Instead, we all get to argue what "best available player" actually means, why Matt Ryan is or is not worth the $50 million he will earn over the next two years, or why the Atlanta Falcons aren't really as bad as their record indicates.
We also get to read mock draft articles that have the Atlanta Falcons drafting every quarterback not named Trevor Lawrence, Kyle Pitts, Penei Sewell, Ja'Marr Chase, Caleb Farley, or even someone absurd like Najee Harris.
Nope, while most fan bases get to enjoy the excitement of the start of the new league year and free agency, we as Falcons fans are stuck in a football rut hoping and praying that somehow new general manager Terry Fontenot and new head coach Arthur Smith can turn around a franchise that has been led astray by poor management and coaching over the last decade.
The immediate future looks bleak but let's hope that Arthur Blank was able to identify and hire the right guys and that they are able to turn things around sooner rather than later so that we too can start enjoying the start of the league year and free agency.