Atlanta Falcons mock draft: Terry Fontenot goes offense early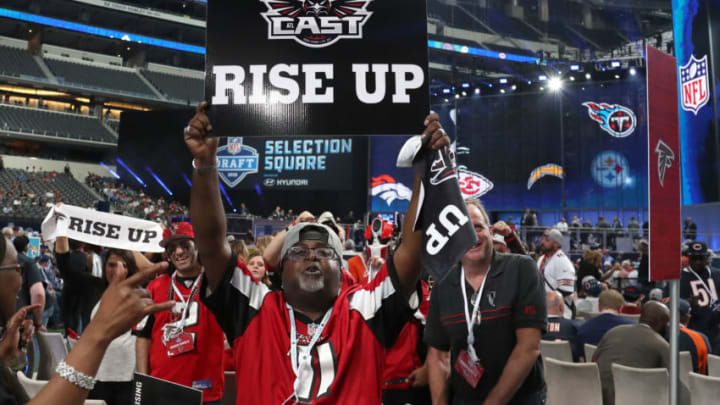 Apr 26, 2018; Arlington, TX, USA; Atlanta Falcons fans cheer prior to the first round of the 2018 NFL Draft at AT&T Stadium. Mandatory Credit: Matthew Emmons-USA TODAY Sports /
Round 4, Pick 108: Kendrick Green, OG Illinois
Kendrick Green could come in and fill the other hole in the Atlanta Falcons roster, left guard.
He is a 6-foot-4 315 lbs player, who lined up at left guard and center for Illinois. Illinois did not have a good offense but Kendrick Green was a bright spot for them. It remains to be seen if he will last this long in the draft, but the Falcons should definitely take him here if they get the chance.
What stands out in his game is how he blocks the defenders from getting to the ball. He may not always overpower players, but he certainly knows how to keep them from getting to the ball carrier or the quarterback.
He has good agility in the short area and should provide great run blocking for the Atlanta Falcons. The area he does struggle in the most is pass blocking. He needs his technique improved in certain areas of his game, but if he fixes the small stuff he could have an extremely bright future.
Other considerations: Brady Christianson, OT BYU; Dylan Moses, LB Alabama.
Round 5, Pick 148: Tay Gowan, CB UCF
Tay Gowan is a project CB, that could have a big return for the Atlanta Falcons down the road.
He is an impressive 6-foot-2 and 185 lbs. He does not have much experience as he had virtually no recruitment coming out of high school, and he spent some time in JUCO. He is coming into the draft with just one year of experience with UCF, that is why he may last until the fifth round or later.
However, that does not mean he will be a bad player, he will need time but he could turn into a great player with the Falcons. He has the size and speed but is just lacking a ton of experience. He was a ball hawk in junior college, where he was able to snag six interceptions.
The Atlanta Falcons could take a flier on this inexperienced but physically gifted corner, and see if Dean Pees can turn him into a quality player.
Other considerations: Cornell Powell, WR Clemson; Richard LeCounte, S Georgia.
Round 5, Pick 182: Malcolm Koonce, ED Buffalo
The Atlanta Falcons could certainly select multiple edge defenders in the draft as it is a big need for the team. Here they select another one, Malcolm Koonce, who also comes from a smaller school.
He isn't the biggest guy, at 6-foot-2 and 250 lbs, but he is quite lanky and can bend pretty well. He certainly needs to learn the techniques better when he enters the NFL, but he already plays the position quite well. Much like many edge defenders who come out of the draft, he needs to develop more moves to be effective in the NFL. It is certainly something that an NFL coaching staff can develop.
He could provide depth while the coaching staff tries to develop him into a starting-caliber player. He no doubts would upgrade the Falcons pass-rushing group that they currently have.
Other considerations: Janarius Robinson, ED FSU; Bobby Brown III, NT Texas A&M.
Round 5, Pick 183: Dax Milne, WR BYU
One position that not a lot of people are talking about as being a need for the Atlanta Falcons, is a depth receiver. They really only have Olamide Zaccheaus, who has shown potential but must stay healthy, Cordarrelle Patterson who seems like he will be used more as a running back but certainly can be a decent receiving threat, and Christian Blake, who when called upon, has not been very effective in games as a receiving threat.
This is why the Falcons could target a wide receiver in the later rounds, certainly, there are bigger needs at other positions but Dax Milne is still sitting there and he is hard to pass up.
Dax Milne is not flashy when you look at his physical attributes but when Zach Wilson threw the ball to him, he delivered.
Milne improved a ton from the 2019 to 2020 season, and that has boosted his draft stock to being a guy who will no doubt be drafted. He recorded six games in 2020 with over 100 receiving yards.
He is only 6-foot-0 and 180 lbs, so he is not Julio Jones, or Kyle Pitts by any means, but you do not need to have the physical attributes to be a quality player. He certainly would be a great guy to sub in when one of the star pass catchers on the Falcons needs a break.
Other considerations: Chris Brown, S Texas; Shi Smith, WR South Carolina.
Round 6, Pick 187: Khyisis Tonga, NT BYU
Four picks later, at the beginning of the sixth round, the Atlanta Falcons select a second straight BYU player in Khyisis Tonga.
Tonga is a big man standing at 6-foot-2 and 325 lbs. He would line up on the inside for the Falcons and potentially be a backup to Tyeler Davison. He certainly is big enough to play in the NFL, and he has decent quickness that could eventually make him a decent pass rusher from the inside.
He is a good tackler which is something you want from the inside, it is important for inside guys to be able to make a tackle while they are being pushed around. He has the capability to do that. He may not ever be a pro bowl player, but he is a guy who will provide depth and could eventually take over for Tyeler Davison when his time in Atlanta is done.
Other considerations: Patrick Jones, ED Pitt; Shaka Toney, ED Penn State.
Round 6, Pick 219: Christian Uphoff, S Illinois State
The final pick for the Atlanta Falcon's 2021 draft is Christian Uphoff, a safety out of Illinois State.
Certainly, safety may need to be a position that is addressed earlier in the draft, however, there were no safeties that really stuck out until this pick.
This is yet another smaller school guy, but he has the capability to play in the NFL at a high level. He is 6-foot-2 and 209 lbs. He has the athleticism to get around the field and make plays. He may need a couple years, as the most late-round draft does, but he can learn vital things from veterans Duron Harmon, and Erik Harris.
He shows everything you need in a safety, he just is too aggressive in tackling, which results in missed tackles. This is something that can definitely be fixed.
Here is what NFL.com's, Lance Zierlein said about Christian Uphoff:
"Versatile safety prospect with the size, play strength and coverage ability to be deployed in a variety of positions. He's a plus athlete with above-average length and a playmaker's mindset. He has the foot quickness and anticipation to handle man coverage and contest catches underneath or handle split safety duties, where his awareness and athleticism benefit him. Tape shows an instinctive player who can be a little inconsistent in responding to what he sees. He's tough and physical enough to cover tight ends and play near the line of scrimmage in run support. His angles to the football and inconsistencies as an open-field tackler are a little concerning, but he should be an early backup with the upside to develop into a starter."
Certainly, this can get anyone excited about Christian Uphoff. He has the tools, he just needs to learn how to tackle better. He could turn into the type of player the Falcons need at the safety position, after letting go two goods ones in Keanu Neal, and Damontae Kazee.
Other considerations: Aashari Crosswell, S Arizona State; Sam Ehlinger, QB Texas.