NFL's top five players who were drafted by the Atlanta Falcons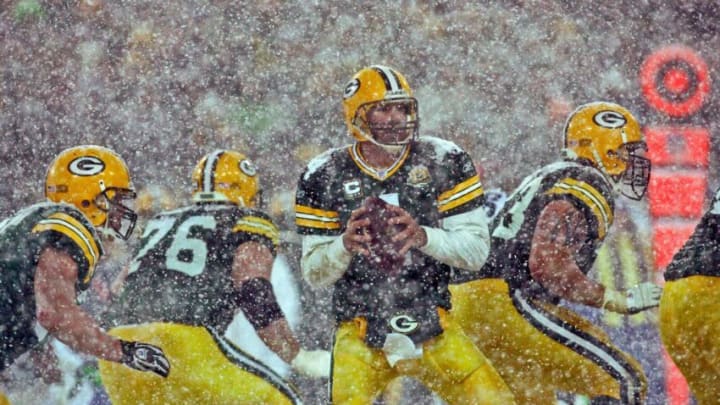 Green Bay Packers' Brett Favre looks for a receiver in heavy snow during game against the Seattle Seahawks at Lambeau Field Saturday, January 12, 2007.Packers13 Spt Sieu 17 /
Nov 14, 1993; Atlanta, GA, USA; FILE PHOTO; Atlanta Falcons defensive back Deion Sanders (21) in action against the Los Angeles Rams at Fulton County Stadium. Mandatory Credit: Photo By USA TODAY Sports /
1) Deion Sanders – Drafted in 1989
Deion 'Prime Time' Sanders is one of the most well-known players to ever take the field and he was drafted with the fifth pick in the 1989 draft by the Atlanta Falcons.
Not only is Deion almost unanimously known as the greatest cornerback in NFL history, but he is also known to be one of the greatest athletes in the world. That certainly shows as he played cornerback, wide receiver, and also returned kicks and punts during his 14 seasons in the league. He was also a two-sport athlete as he played in the MLB.
It is rare that you find a player who is known to be the greatest to play their position in NFL history without much debate, and Deion Sanders is one of them.
He also brought a new type of energy and culture to the Falcons. He almost singlehandedly made the Falcons one of the most entertaining teams to watch during his five seasons with the team.
He went on to play with San Francisco for one year, Dallas for five years, Washington for one year, followed by his retirement for three years, and then he came back at the age of 37 to play with Baltimore for two years.
He is the greatest cornerback ever, he is one of the greatest athletes ever, he played two pro sports at one time, and was the biggest personality anyone had ever seen. Combine all those things and it is obvious that he is the greatest player to be drafted by the Atlanta Falcons.
Honorable mentions: Michael Vick, Jessie Tuggle, Claude Humphrey, Jeff Van Note, and Mike Kenn