Who was #81 for the Falcons in their first preseason game?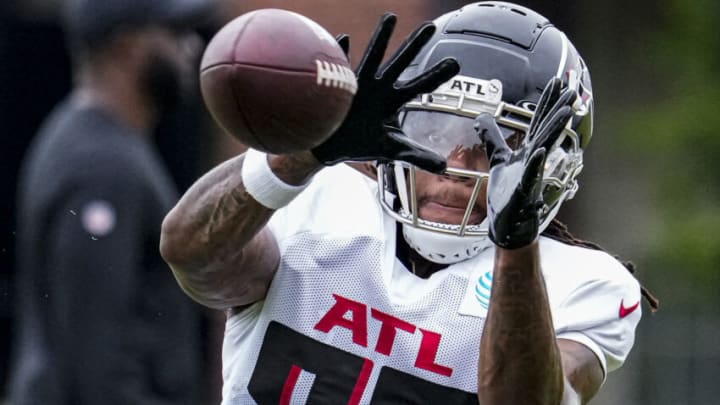 Aug 1, 2022; Flowery Branch, GA, USA; Atlanta Falcons wide receiver Tyshaun James (85) watches the ball in a drill during training camp at IBM Performance Field. Mandatory Credit: Dale Zanine-USA TODAY Sports /
If you were one of the many people who watched the Atlanta Falcons' first preseason game with the team's roster pulled up, then you were not alone. Due to the 90-man roster, it can be difficult to keep track of who each player is, especially when jersey numbers are constantly being changed now.
In addition to that, if you were confused when you saw a Falcons player wearing number 81 only to look at the roster and see there is no one listed with that number, then again, you were not alone. So, who was this mysterious Falcons player?
Who was the Falcons player wearing #81 against the Lions in the first preseason game?
Before we get to who it was, let's just say that the Atlanta Falcons will undoubtedly update their roster soon, but as of writing this, there is no player listed with the number 81.
To get to the bottom of this let's take a look at players listed on the Falcons roster with duplicate numbers because this player has to be on the roster.
#25: Tyler Allgeier (RB) and Cornell Armstrong (DB)
#37: Dee Alford (DB)  and Seth Vernon (P)
#43: Tucker Fisk (TE) and Matt Hankins (CB)
#48: Dorian Etheridge (LB) and Liam McCullough (LS)
#85: Tyshaun James (WR) and MyCole Pruitt (TE)
There is one obvious answer on here as to who it is, and that is Tyshaun James.
Why is that? It is because Tyshaun James and MyCole Pruitt are the only ones on that list who play on the same side of the ball.
The NFL allows duplicate numbers during this time of the year as long as they do not take the field at the same time, with Tyshaun James and MyCole Pruitt both playing on the offense, one of them needed to change their number since there was a strong likelihood that they both would take the field at the same time.
It also makes even more sense when you consider that MyCole Pruitt was just signed and he has worn the number 85 throughout his career but Tyshaun James already claimed that number prior to his arrival.
One can assume that the rookie from Central Connecticut State University gave the veteran the number he has lived in.
Hopefully, the Atlanta Falcons will keep their roster more up-to-date because this surely confused a good amount of people.