Three Atlanta Falcons players set to regress in 2022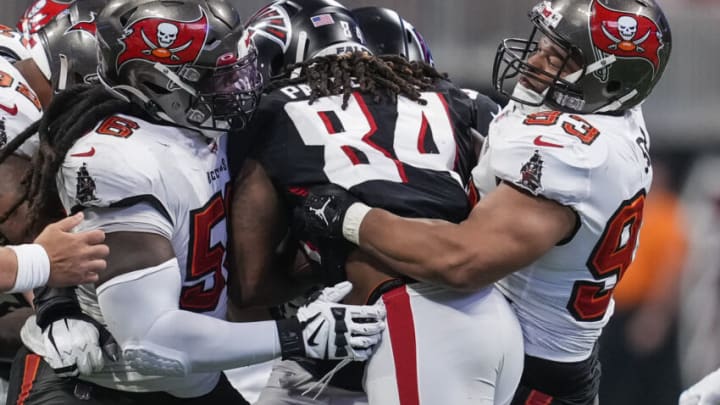 Dec 5, 2021; Atlanta, Georgia, USA; Tampa Bay Buccaneers defensive tackle Rakeem Nunez-Roches (56) and defensive tackle Ndamukong Suh (93) tackle Atlanta Falcons running back Cordarrelle Patterson (84) during the second half at Mercedes-Benz Stadium. Mandatory Credit: Dale Zanine-USA TODAY Sports /
Nov 18, 2021; Atlanta, Georgia, USA; Atlanta Falcons cornerback A.J. Terrell (24) intercepts a pass in front of New England Patriots tight end Jonnu Smith (81) during the second half at Mercedes-Benz Stadium. Mandatory Credit: Dale Zanine-USA TODAY Sports /
The Atlanta Falcons shouldn't expect A.J. Terrell to duplicate or improve on his phenomenal sophomore season
Listen, I think as highly of A.J. Terrell as anyone out there, but asking the Atlanta Falcons' star corner to repeat, let alone improve, on his historic 2021 season is just not fair.
Terrell could give up twice as many yards as he did last year and still be the best in the league, that is how incredible he was last season. Giving up only 200 yards in a span of 16 games (remember he missed a game early in the season) is simply unheard of.
The Atlanta Falcons would and should be thrilled if he only gives up 400 yards throughout 2022, that is still a telltale sign that he is one of the best corners at his position.
Consider the fact that Trevon Diggs gave up more than five times the yards Terrell did last year and people are touting him to be the next Deion Sanders. So, what would that make A.J.? There isn't even a comparison out there.
And don't even give me that whole 11 interception argument. Getting double-digit interceptions is impressive but it is NOT sustainable each year, while elite coverage is. If Trevon has, let's say seven picks this year, are people actually going to think he is that amazing? If the answer is 'yes' then in that case J.C. Jackson is at least twice the player Diggs is. Interceptions are 30% skill, 70% luck while elite coverage is 100% skill, 0% luck.
Once again, you should not be concerned about A.J. Terrell taking a step backward. Expecting him to improve on his year would be like expecting Trevon Diggs to catch more passes than his older, and let's face it, better, brother.