1,000 reasons the Atlanta Falcons must bench Marcus Mariota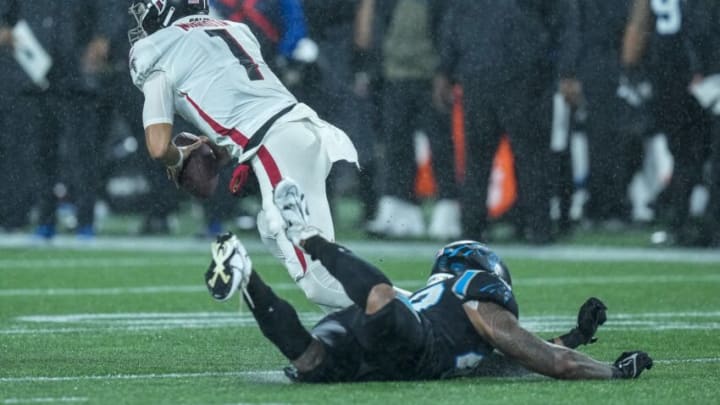 Nov 10, 2022; Charlotte, North Carolina, USA; Atlanta Falcons quarterback Marcus Mariota (1) is tripped up by Carolina Panthers linebacker Frankie Luvu (49) during the second half at Bank of America Stadium. Mandatory Credit: Jim Dedmon-USA TODAY Sports /
That was downright atrocious by the Atlanta Falcons on Thursday Night Football. Despite the fact that they had the ball late needing a touchdown to tie the game, it was still a pitiful performance by much of the team.
It was a bad game by most of the team, but it was a disgusting game by Marcus Mariota making it even more clear that this experiment needs to end right now.
There are too many reasons for the Atlanta Falcons to bench Marcus Mariota
Marcus Mariota is not the answer at quarterback for the Atlanta Falcons going forward, there is no debating against that.
While his offensive line did not have a good game by any means, he did absolutely nothing to prove why he shouldn't take Desmond Ridder's spot on the sideline.
Bad throws, bad decisions, bad pocket maneuverability, not throwing the ball away, attempting to make a throw from the ground that nearly ended up in a defensive touchdown, you name it, there wasn't much that he did right if we are being completely honest. 
I think I can count on one hand the number of good passes he had in the game. The two touchdown throws, the sideline pass to Damiere Byrd, and I am sure I am missing one but those are the only ones that come to mind.
Most of his completions were ugly and he just does not seem comfortable in the slightest bit. Every time it seemed it couldn't get any worse, it did.
Most of us want to see Mariota succeed, but that doesn't mean we should not call for him to be benched if he doesn't, and he certainly isn't. Now is the time to pull the plug on the former second-overall pick, he continues to prove he can't have the ball in his hands and win.