Falcons vs. Saints matchup will feature 2 of 4 most-winningest CFB QB's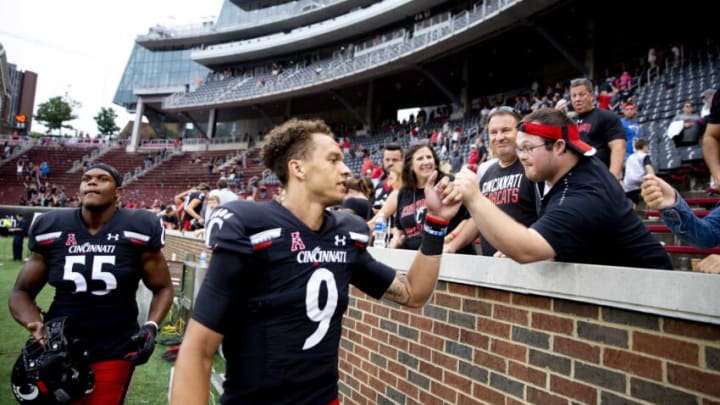 Cincinnati Bearcats quarterback Desmond Ridder (9) fist bumps a fan after the NCAA football game on Saturday, Sept. 4, 2021, at Nippert Stadium in Cincinnati.Cincinnati Bearcats Miami Redhawks /
As we were anticipating the kickoff to the 2022 NFL season, we talked about how the matchup between the Atlanta Falcons and New Orleans Saints would feature two of the most iconic College football quarterbacks of all time—Marcus Mariota and Jameis Winston.
However, little did we know, their week 15 matchup would have even more significance when it came to ties with College football.
Falcons, Saints QBs represent two of four most-winningest College football QBs
Prior to the season, it seemed plausible that Marcus Mariota of the Falcons and Jameis Winston of the Saints would go head-to-head a couple times this season. That prediction, clearly, did not last long as Andy Dalton took over for the Saints following an injury to Winston, and now, Desmond Ridder has taken over for Marcus Mariota.
Desmond Ridder will be starting in his first NFL game while Andy Dalton will be starting in his 159th game. One would think that the two wouldn't have much in common but they do.
Ridder, over the course of his four years as the University of Cincinnati's quarterback, racked up a stunning 44 wins to just 6 losses. From the years 2006 to 2010 as the quarterback for the TCU Horned Frogs, Dalton compiled a record of 42-7.
Only two quarterbacks in the history of College Football have had more wins than those two starting QBs. First is Kellen Moore who was 50-3 at Boise State and second is Colt McCoy who was 45-8 at Texas. Moore is currently the offensive coordinator of the Dallas Cowboys, while Colt McCoy will be the Arizona Cardinals starting QB for the remainder of the season following Kyler Murray's injury.
Combine Ridder and Dalton and all you would have is 86 wins to just 13 losses. That is pretty remarkable, but as we all know, winning in the NFL is a completely different story. Hopefully, Ridder will be undefeated in the NFL on Sunday evening while Dalton sustains his 78th loss as a pro.