Atlanta Falcons: Mercedes-Benz Stadium Interview with Senior VP Mike Gomes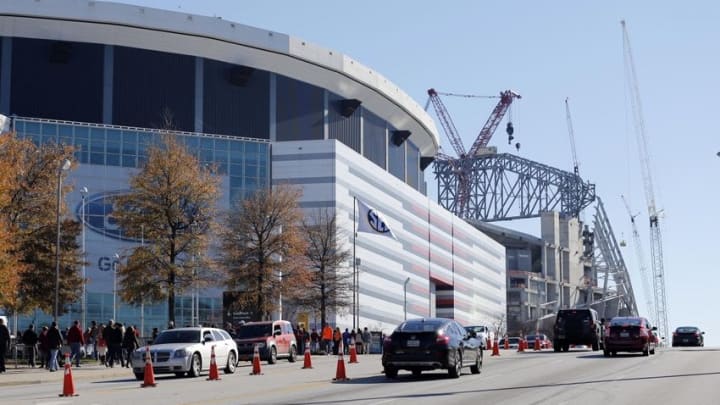 Dec 5, 2015; Atlanta, GA, USA; General view of construction of the Mercedes-Benz Stadium behind the Georgia Dome prior to the 2015 SEC Championship Game between the Alabama Crimson Tide and the Florida Gators. Mandatory Credit: Jason Getz-USA TODAY Sports /
In case you haven't heard, the Atlanta Falcons brand new stadium, Mercedes-Benz Stadium, is set to open in 2017. With a brand new stadium comes enticing features for Falcons fans and visitors.
The implementation of the Fan Experience Program is developing amazing ideas for the fans to enjoy while at Mercedes-Benz Stadium. One of those ideas is to set a game-changing concession prices.
With this groundbreaking program being put in place, I took the time to chat with Mike Gomes, Senior VP of the Fan Experience for AMB Sports & Entertainment (Atlanta Falcons, Mercedes-Benz Stadium and Atlanta United), and gauged some questions on the program and what to look forward to when the phenomenal Mercedes-Benz Stadium opens it's doors for the Falcons 2017 season.
What is the ultimate goal for implementing the Fan Experience Program?
Gomes: Our goal is to be the ultimate sports and entertainment venue in the world. That means all aspects of the fan experience need to be great. That includes today's announcement with food and beverage – from quality to speed of service and pricing – and it also includes audio visual offerings and technologies such as the one-of-a-kind Halo board that will be the largest of its kind in the world and the 2,000 TV screens across the building.
Other elements such as transportation and parking, our mobile app, signage and wayfinding also tie into implementing an unparalleled fan experience for the millions of guests who will visit our building each year.
How did this impressive food and beverage program come about?
Gomes: Through various surveys and feedback, fans told us loud and clear that food and beverage is an important part of their overall game-day satisfaction yet its consistently rated as one of the least satisfying aspects of the experience. We asked a very simple question – can we charge lower, friendlier prices? The answer was yes. We listened and responded. To us it was an obvious opportunity to give back to our fans.
What lasting effect will this ultimately have on fans, vendors, and others?
Gomes: We'll look to feedback from our fans, who will be the ones to tell us what the lasting effect will be on the game-day experience. For us, the intent is to keep prices low and affordable, which may encourage them to enjoy more of the food and beverage options and attract them to come into the stadium earlier. A great food and beverage experience ties into the lasting effect we'll have on fans and their overall satisfaction with their stadium experience.
What other features will draw the masses to Mercedes-Benz Stadium?
Gomes: Mercedes-Benz Stadium offers several unique features that will draw fans and some of the elements that are particularly noteworthy include the notion of the open-air, naturally-lit stadium with a roof that will only close in inclement weather and floor to ceiling windows to the city that will keep fans connected to the outdoors and the Atlanta skyline.
The stadium's technology and particularly the HD Video Halo Board that is the only one of its kind in size and scale will certainly appeal to the masses and is a piece of technology that we think everyone can appreciate. And ultimately, we want people to be as 'wowed' by the experience inside the building as they are by the building itself. By reimagining what the guest experience will be at Mercedes-Benz Stadium, including food and beverage, we think these new fan experience elements will be a large draw for fans."
How will Mercedes-Benz Stadium set the bar for stadium construction in sports?
Gomes: Mercedes-Benz Stadium is currently tracking for LEED Platinum certification, which would make it the first professional sports stadium in the world to achieve this standard. We want to push the boundaries of what's possible and are going for the highest industry standard for building construction – that includes everything from how we approach power usage and water usage and leveraging natural light options.
Next: What would Falcons roster look like if all-Georgia?
The roof is another very unique design element for a stadium and the roof's complexity along with the stunning exterior façade and architecture will be unlike any other venue in the world.