Atlanta Falcons: The Michael Vick Series Part IV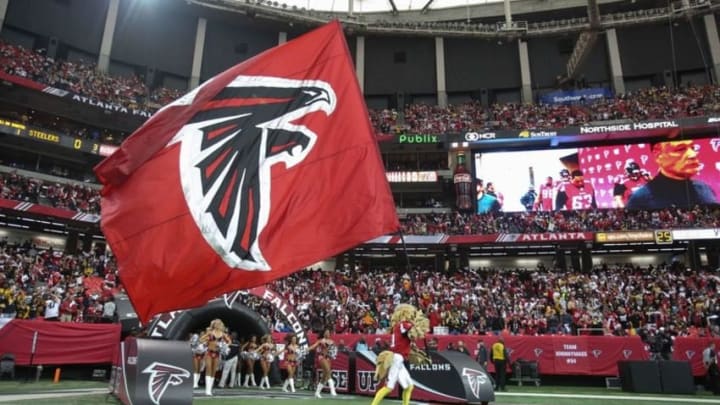 Dec 14, 2014; Atlanta, GA, USA; Atlanta Falcons mascot Freddie Falcon waves the Falcons flag before their game against the Pittsburgh Steelers at the Georgia Dome. The Steelers won 27-20. Mandatory Credit: Jason Getz-USA TODAY Sports /
It literally came from nowhere.
A new chapter was beginning for Michael Vick and the Atlanta Falcons. In January 2007, owner Arthur Blank hired Bobby Petrino from the University of Louisville to be the next head coach after moving on from Jim Mora Jr. following the 2006 season.
Along with that hire came favorable expectations. Vick himself was coming off an historic season as he was the first quarterback to rush for 1,000 yards in a season (1,039). Bringing in Petrino, who was anointed as an offensive guru, would have given Vick a wide-open offensive scheme that would have made the Falcons even more complex to defend.
Then in April 2007, those expectations came crashing down to earth in which they also burst into flames with no one in site to put out the inferno.
Vick found himself investigated by local, state, and federal authorities on his property in Surry County, Virginia. Approximately 70 dogs were discovered on the property in conjunction with a dog-fighting ring that was spearheaded by Vick and his close associates/family members.
Little did we know, that this endeavor by Vick and his circle had years under it's belt. Six to be exact. If you're a Falcons fan/follower, Vick fan/follower, anything of that nature, no need to go into great detail of what came of this: Vick eventually received a 23-month sentence in a federal penitentiary along with three years of probation.
In a matter of a few months, the Falcons and the city of Atlanta experienced a unique, yet unwanted transition. From having high hopes with the joining of Vick's talents with Petrino's wizardry to losing arguably the most popular and skilled player in team history and having little to no sense of direction.
More from Atlanta Falcons News
To make matters even more dreary, Petrino left the team with three games remaining on the regular season. Petrino departed for a head-coaching gig at the University of Arkansas and sneaked out of the back door by writing a short notice for the players instead of addressing the team of men face to face. This column isn't entirely about Petrino so for the time being, I'll keep my personal opinion about that matter in my back pocket.
Upon Vick getting sentenced, it truly felt the door was slammed shut and the fat lady was singing loud and proud. For six seasons up to that point, Vick created magic. With his spectacular footwork, devastating speed and underrated arm strength. Even though the franchise saw themselves in the Super Bowl following at the 1998 season, you can legitimately say that Vick's time as a Falcon was the climax of being a Falcons fan.
Made his mark 
Vick was not the first running QB to grace the NFL. The skill was already established by names such as Fran Tarkenton, Randall Cunningham, Steve Young and Donovan McNabb placed the element under the microscope. Yet Vick himself escalated that part of the game to a much higher level. He was unprecedented. We never saw a QB with his speed, escapability, and ability to turn a potential eight yard sack into a 60-yard touchdown run.
Some still have yet to give Vick the proper credit, but Vick transcended the position in just a handful of seasons. He altered teams to covet quicker defensive ends. He constantly changed defensive game-plans to encourage having an appointed defensive spy on the field at all times. You can still see traces of Vick's impact in the game today.
Next: Atlanta Falcons: Top 20 games in franchise history
Seattle's Russell Wilson and Carolina's Cam Newton are extensions of what Vick created. Although his time in Atlanta ended in controversial fashion, Vick's time as a Falcon will always be remembered, cherished, and embraced.