Atlanta Falcons: Record Prediction Update After Week 4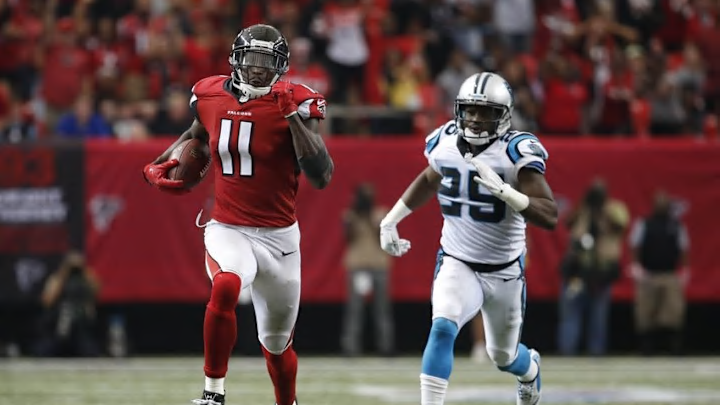 Oct 2, 2016; Atlanta, GA, USA; Atlanta Falcons wide receiver Julio Jones (11) runs for a touchdown against Carolina Panthers cornerback Bene /
The Atlanta Falcons improved to 3-1 with a 48-33 victory over the Carolina Panthers in the Georgia Dome. In this victory, Matt Ryan and Julio Jones both set single-game franchise records, giving Atlanta fans a lot to be excited about.
Matt Ryan has always been considered a franchise quarterback and one of the better QBs in the league. However, Week 4's performance, 503 yards, 4 touchdowns, while completing 75.68% of his passes, perhaps set his place to compete for the award of MVP.
More from Blogging Dirty
His stats through Week 4 are 1,473 yards and 11 touchdowns with just 2 interceptions on a 72.1 completion percentage.  Without question, he's playing the best football of his career right now. It will be interesting to see how he plays against the top-rated Denver Broncos defense.
As for Julio Jones, he just once again proved to the nation that he is the best receiver in the NFL (don't worry Antonio Brown, you're a close second). Jones collected 300 receiving yards on 12 catches including a touchdown this past Sunday. In total, he sports 488 receiving yards on 22 catches and 3 touchdowns. If Jones continues his monster performance, maybe his name is in the MVP hat as well.
The running game was not prolific as it was in New Orleans, but Carolina used their linebackers and front seven to limit Freeman and Coleman. Even though the pair didn't put up demigod numbers like they did against the Saints, they were still able to set up the play-action pass game and run for first downs in crucial situations. The backs also picked up blocks to protect Matt Ryan on blitzes, showing their value in more than just running the ball.
And while the offense performed great, questions and doubts are still looming on the defensive side of the ball. Linebackers Deion Jones and Sean Weatherspoon both suffered injuries against Carolina. With Worrilow and Campbell still out, this significantly impacts the depth at linebacker. Jones said he would still likely play against Denver, but Weatherspoon ruptured his right Achilles tendon. Weatherspoon's injury is season ending and possibly career ending. Best hopes to the long-time Falcon.
In the secondary, Trufant played well, tightly covering his man as always. Robert Alford snagged a pair of interceptions, including a pick-six to help put the game out of reach. The undrafted rookie Brian Poole continued to show his talent and prove his worth, defending 2 passes and playing solid coverage. Keanu Neal led the Falcons in tackles, with 9 total and 6 solo tackles. Unfortunately, the first round pick was beaten by Greg Olsen multiple times throughout the game, but Neal is still a rookie and Olsen is one of the best tight ends in the NFL. Growing pains are to be expected, but hopefully, he can overcome them as the season continues.
Looking ahead, the Falcons have an ugly road trip. They travel to Denver in Week 5 and then to Seattle in Week 6, facing two very strong defenses. Atlanta performed well against the stout Carolina defense, but cornerbacks like Talib, Harris Jr. and Sherman are better than any the offense has faced so far. Not to mention the great pass rush and linebacking corps that Denver and Seattle both have.  Atlanta's offense has been dynamic and successful so far, but these defenses will be the real test.
My Prediction
The Falcons proved to me that they can put up points against tougher a defense. I now expect the team to finish 10-6 or 11-5 and to win the NFC South. If Atlanta makes a statement these next two weeks, then the Dirty Birds just might be contenders.