Atlanta Falcons: The Ultimate Test Begins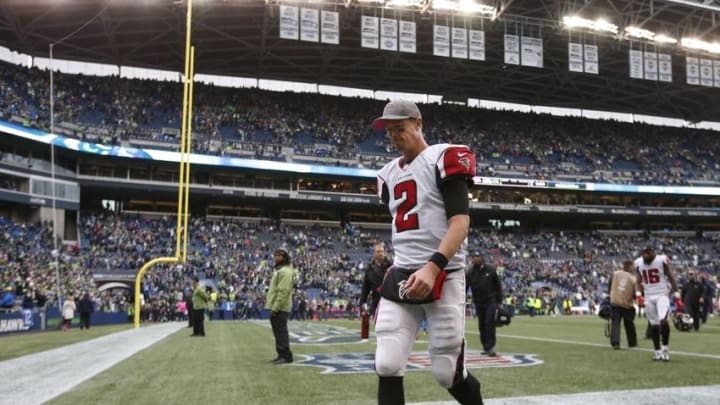 Oct 16, 2016; Seattle, WA, USA; Atlanta Falcons quarterback Matt Ryan (2) walks back to the locker room following a 26-24 loss against the Seattle Seahawks at CenturyLink Field . Mandatory Credit: Joe Nicholson-USA TODAY Sports /
First and foremost, let's clearly state that the Atlanta Falcons were hosed against the Seattle Seahawks. I've been an advocate for having a wider range for game challenges to include penalties. The call that was never made on Seahawks corner Richard Sherman was clearly pass interference on Falcons receiver Julio Jones and for it to be not called was a clear reflection on how the NFL and their referees are hurting the game.
Whew. Got the out of the way.
With that being said, the Falcons now sit at 4-2 and even though the loss to Seattle leaves a bitter taste, what awaits the Falcons is where the focus should be applied.
In recent seasons, losses such as this have mentally crushed the Falcons. Last season, a lost to the New Orleans Saints sent the Falcons into a tailspin as they struggled to defeat the Tennessee Titans the next week and lost to a lesser-talented San Francisco team that fielded numerous practice squad individuals as well as a Tampa Bay squad with a rookie quarterback in Jameis Winston and a dreadful defense.
Now, Falcons head coach, Dan Quinn gets to show one reason why he was hired prior to the 2015 season. His main task is to keep the team on track mentally. This has the potential to be a special season for the Falcons and mental lapses after coming drastically close to defeating the Seahawks can turn their impressive season upside down.
Oct 16, 2016; Seattle, WA, USA; Atlanta Falcons coach Dan Quinn reacts in the second quarter against the Seattle Seahawks during a NFL football game at CenturyLink Field. Mandatory Credit: Kirby Lee-USA TODAY Sports /
I'm rarely one for moral victories but losing 26-24 to Seattle showed something that the Falcons haven't really shown often in past seasons.
Instead of waving the white flag at halftime, the team showed aggressiveness and showed the type of resiliency that will win games and pass interference aside, the Falcons took it to Seattle and opened the eyes of many.
Ironically, the team's biggest test this season is showing that resiliency in the upcoming weeks instead of wondering "What if?".
Defeating Carolina was one thing, going into Denver and handing the defending Super Bowl champions a loss was also impressive, and even having Seattle on the ropes was a welcoming sight. However, showing that this team can still keep the show going is warranted.
A number of individuals are taking notice of the Falcons and their season so far. Some have the perception that the Falcons are for real. Others are waiting for the Falcons to stumble to simply say, "I told you so"
It's up to this talented Falcons bunch to maintain that winning focus.