Atlanta Falcons: Takkarist McKinley's Dread placed on, removed from eBay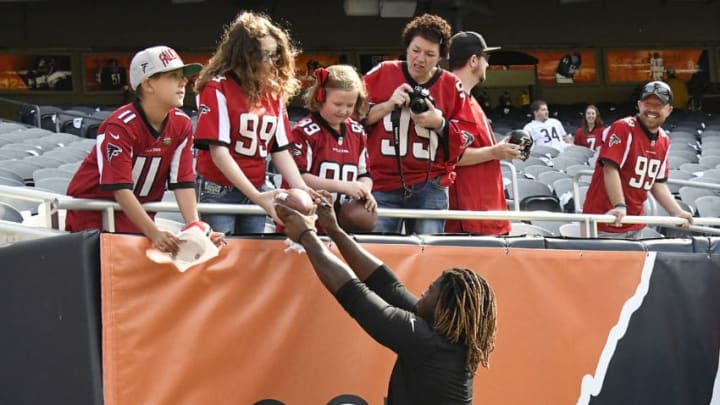 CHICAGO, IL - SEPTEMBER 10: Takkarist McKinley (Photo by David Banks/Getty Images) /
Atlanta Falcons rookie defensive end Takkarist McKinley apparently lost a dread lock while in Detroit and found it on eBay, but the item was later removed
It was a close victory in Week 3 for the Atlanta Falcons. The Detroit Lions fought back hard in the game, which came down to the wire. Atlanta ended making a goal-line stop for the second time in as many road games this season.
Of course with such a win, all the cliches come out about leaving it all out on the field in a miraculous win. For rookie defensive end Takkarist McKinley, that phrase couldn't be more true.
The first-year player got more snaps than he had in previous games as the team was relying on his ability to rush the edge with 2016 NFL sack leader Vic Beasley out with a hamstring injury. The UCLA product didn't disappoint as he recorded his first sack of the season in a game where every defensive stop ended up counting.
It's fair to say McKinley left it all on the field, and later we saw how true that was. The energetic rookie is already a social media wonder and had a lot of fun following the game when he found out that his hair was part of what he "left on the field."
Related Story: Falcons vs. Bills: Game info, Live Stream
A Ford Field employee apparently found a dread lock that had fallen out for McKinley, and placed it on eBay, as he should have. McKinley alerted us all to the auction, and followed it throughout the day.
https://twitter.com/Takk/status/913818810792251393
After joking that he needed to buy it back, McKinley started to see the earning potential behind cutting the rest of his dreads off and placing them on eBay as well.
https://twitter.com/Takk/status/913867663839055872
He had to feel even more inclined to do so after it hit five digits in the bids.
Eventually the auction was pulled by eBay according to McKinley, who said it was all the way up to $11,000.
https://twitter.com/Takk/status/913917812548218880
Next: Falcons vs. Bills: Behind Enemy Lines with Adam James
While there's no telling who would pay $11,000 for a piece of hair, the fact remains that McKinley may now be onto something when he said he needs to do some cutting and selling of his own. There's obviously a big market out there.