With Alford gone, Oliver is next up at CB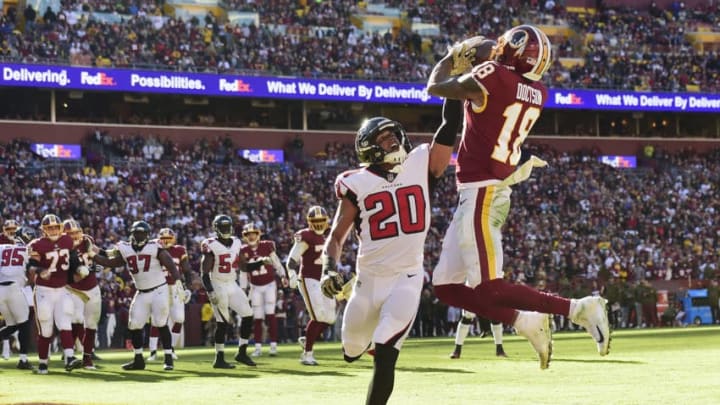 LANDOVER, MD - NOVEMBER 04: Wide receiver Josh Doctson #18 of the Washington Redskins catches a pass for a touchdown against free safety Isaiah Oliver #20 of the Atlanta Falcons in the second quarter at FedExField on November 4, 2018 in Landover, Maryland. (Photo by Patrick McDermott/Getty Images) /
From a pick six in Superbowl  51 off Tom Brady to being benched for a rookie and inevitably being cut, things have changed dramatically for Robert Alford.
Alford, who is 30 years old, has spent his entire six-year NFL career playing for the Falcons. To put it mildly, he has had a very inconsistent career in Atlanta. He showed flashes of brilliance, while also showing signs of a serious lack of discipline when playing the deep ball for many years.
Penalties might have been the biggest knock on Alford during his time with the Falcons. Physically, Alford has the skill set to be great in this league. However, General Manager Thomas Dimitroff has waited long enough for him to develop into the player he thought he was going to get when drafting him out of Southeastern Louisiana University in 2013.
The Falcons will free up $7.9M with the release of Robert Alford. Now, the biggest question looms of where Atlanta will go from here at cornerback this off-season.
Desmond Trufant will most likely be back for the Falcons in 2019, with players like Damontae Kazee transitioning to nickel cornerback with the possible departure of Brian Poole in free agency.
In my opinion, this move by Atlanta shows the confidence that Dan Quinn and the front office have in 2018 second round pick Isaiah Oliver.
Oliver didn't have an amazing rookie season by any means, but showed improvement each week. Oliver finished his rookie season with 23 tackles and 1 INT.
The second year player out of Colorado, really took off during the 2018 season and gained valuable experience. His low point in 2018, when he let A.J. Green blow by him for a game-winning TD in week 4 against Cincinnati.
He took that, learned from it and got better.
Sure, the Falcons could look for another cornerback like Greedy Williams from LSU or DeAndre Baker from UGA in the first round of the 2019 draft. But, with a player like Oliver that has seen what it is like to play against starting WR's in the NFL, their confidence in him is only growing.
Oliver finished 2018 by starting opposite Desmond Trufant at cornerback, and don't expect much to change in 2019. This staff believes in Isaiah Oliver, and so should you.
LANDOVER, MD – NOVEMBER 04: Wide receiver Josh Doctson #18 of the Washington Redskins catches a pass for a touchdown against free safety Isaiah Oliver #20 of the Atlanta Falcons in the second quarter at FedExField on November 4, 2018 in Landover, Maryland. (Photo by Patrick McDermott/Getty Images) /