Atlanta Falcons need to embrace talent pipeline from Athens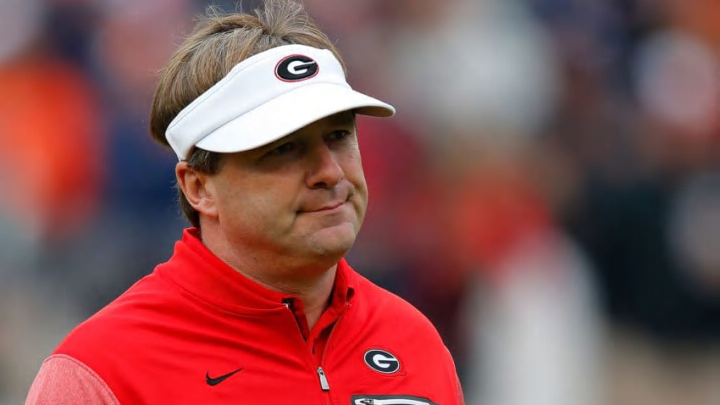 AUBURN, AL - NOVEMBER 11: Head coach Kirby Smart of the Georgia Bulldogs walks the field prior to facing the Auburn Tigers at Jordan Hare Stadium on November 11, 2017 in Auburn, Alabama. (Photo by Kevin C. Cox/Getty Images) /
Much of the Atlanta Falcons fanbase are also fans of the University of Georgia's football team. It is only natural that these fans want the Falcons to draft Bulldogs players every season. However, the Falcons recent draft history shows that the Falcons don't really care what the fans want in that regard.
According to Michael Carvell of DawgNation, the Atlanta Falcons have only drafted four UGA players since 2000….four! That's an insane statistic considering how close the University of Georgia is to Atlanta.
I watch a lot of football. My weekends revolve around football during football season. I see plenty of UGA players scattered throughout the NFL finding great success, with some in recent years becoming Super Bowl champions. So, as a die hard UGA fan and Falcons fan, it angers me to see these UGA players having such great success on teams that aren't the Falcons.
I would be lying if I said I didn't believe the Falcons would be better if they had more UGA players on the roster. I watch these guys play their hearts out for UGA football for three to four years, so it is only natural that I grow attached to them and study what they are good at. I do understand where the Falcons are coming from though.
After reflecting more on the Falcons recent drafts, I do feel that school doesn't matter when drafting a player. There have been many great players throughout the leagues' history and Falcons history that have come from smaller schools and found great success. Yes, I would love for the Falcons to draft UGA players, but I do understand why the Falcons haven't drafted very many of them.
Ultimately, it boils down to the fact that the UGA players in the draft just don't fit what the Falcons are looking for to add to their roster. It has nothing to do with school, it's just that there have been better players available when the Falcons are selecting that they feel will fit better with the team, which is an ideal that I respect. Sometimes it works out, sometime it doesn't, like when the Falcons drafted Vic Beasley over Todd Gurley.
This years draft will consist of many more potentially great UGA players who could go on to find great success. If the Falcons draft any of them, I will be ecstatic, if not, I won't be upset because I will have confidence that the Falcons have drafted the right man for the position.
The Falcons aren't opposed to UGA players, they are just making sure they draft the right players for the right positions.