Atlanta Falcons defense is missing Superbowl characteristics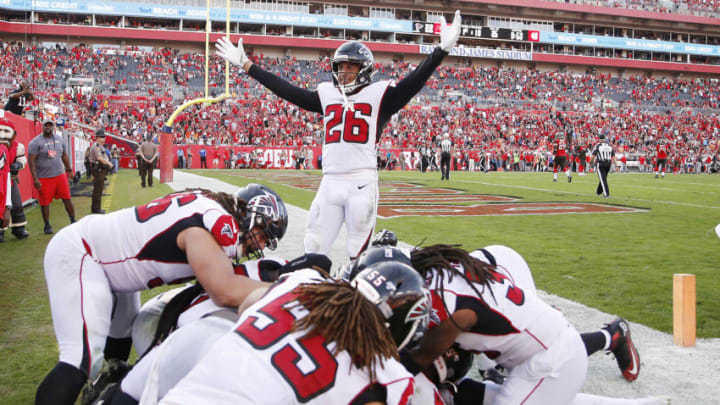 TAMPA, FLORIDA - DECEMBER 29: The Atlanta Falcons celebrate after Deion Jones #45 intercepted a pass by Jameis Winston #3 (not pictured) for a touchdown to defeat the Tampa Bay Buccaneers 28-22 in overtime at Raymond James Stadium on December 29, 2019 in Tampa, Florida. (Photo by Michael Reaves/Getty Images) /
The Atlanta Falcons are a team that believes they can win the Superbowl this year.
NFL.com writers Daniel Jeremiah and Bucky Brooks created a formula based upon the characteristics of Superbowl winning teams. Applying that formula to the Atlanta Falcons defensive side of the ball will show us how close they are to being good enough to win an actual Superbowl.
Admittedly, the rules of their plan are very easy to understand. Their formula on the defensive side of the ball requires that they have at least two good to great pass rushers and at least three defensive playmakers from the linebackers and defensive back positions.
We will also use the ProFootballFocus state of the franchise guide as a grading system of each and every player brought up for the article.
Of course, we will start with the highest-graded defensive player on the Atlanta Falcons from this past year, Grady Jarrett. He is an elite pass rusher and not only that but an above-average run stuffer.
Additionally, we can add Dante Fowler to the mix of good to great pass rushers. Obviously, the Falcons have the pass rushers to pass that segment of the formula.
The Atlanta Falcons need for the newcomers to do their part defensively
However, it is the second part of the Daniel Jeremiah and Bucky Brooks championship blueprint that bites our Falcons in the butt. As of right now, we have just one above-average playmaker, and we all know him as the LSU great Deion Jones.
Additionally, we can say that Deion and Grady carried our defense this past season. Deion Jones finished with a high-quality starter mark from the state of the franchise guide.
Consequently, Deion Jones did not have much help in the back seven of our defense. It seems that the State of the franchise manual graded almost every other player below average. Hopefully, that changes this upcoming season with some new mix of players joining this year, such as the Atlanta Falcons first-round pick A.J. Terrell as well as  Mykal Walker.
The Atlanta Falcons defense has to show up and create turnovers to get the offense back into position to score. This team has all the pieces to be great in 2020, they just have to go execute on the field.