Atlanta Falcons: Deion Sanders and Arthur Blank win at least one Super Bowl together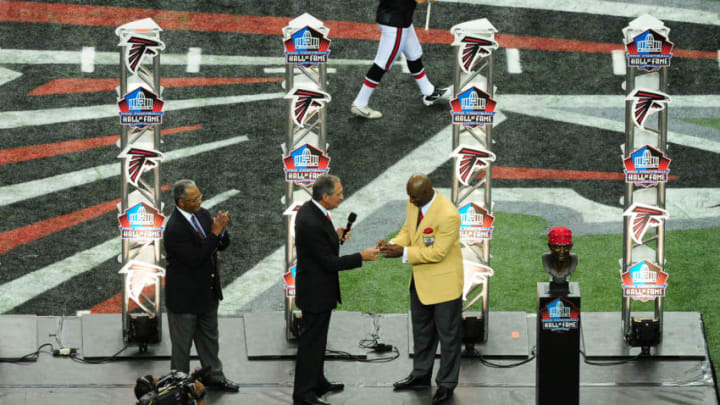 ATLANTA, GA - OCTOBER 16: Former Atlanta Falcon Deion Sanders is presented with his Hall Of Fame ring by team owner Arthur Blank at halftime of the game against the Carolina Panthers at the Georgia Dome on October 16, 2011 in Atlanta, Georgia. (Photo by Scott Cunningham/Getty Images) /
ATLANTA, GA – OCTOBER 16: Former Atlanta Falcons Deion Sanders is presented with his Hall Of Fame ring by team owner Arthur Blank at halftime of the game against the Carolina Panthers at the Georgia Dome on October 16, 2011 in Atlanta, Georgia. (Photo by Scott Cunningham/Getty Images) /
Atlanta Falcons owner Arthur Blank's loyalty would have changed the future.
The Atlanta Falcons have had some very talented players over the course of the franchise's history. The Falcons have drafted three players that ended up in Canton – Claude Humphrey, Deion Sanders, and Brett Favre. They have also had several more suit up for them at some point in their careers and several others like Tommy Nobis and Jessie Tuggle that should be.
How different would the Atlanta Falcons look today and how different would the franchise look if Arthur Blank had been the owner for the last 30 years?
Blank is very loyal to his players, specifically his marquee players. He understands the value that greats bring to both the club and the city alike. As we saw with Michael Vick, he was too loyal, something most sports owners typically aren't.
Sure, Blank cares about money and the business side, but he has never been afraid to spend money. There are countless owners across the NFL and other pro-sports that are the exact opposite. Blank also cares about the fans and we saw that when they built Mercedes Benz – he didn't have to make food and beverage affordable or fan-friendly but he did just that.
Had Arthur Blank bought the Atlanta Falcons in 1990 instead of 2001, the Franchise would have looked much different in 2020.
Deion Sanders would never have left the Atlanta Falcons
Deion sat out the first couple of weeks of the 1994 season, presumably looking to see who would give him the best chance at a Super Bowl before committing to a contract. As we know, he ended up signing with the 49ers on a one year deal.
Blank would never have let it get that far. He would have locked Deion up for at least another five years and would have gladly made him the highest-paid player in the game and he would have done that before the 1993 season ever ended.