Atlanta Falcons: Deion Sanders and Arthur Blank win at least one Super Bowl together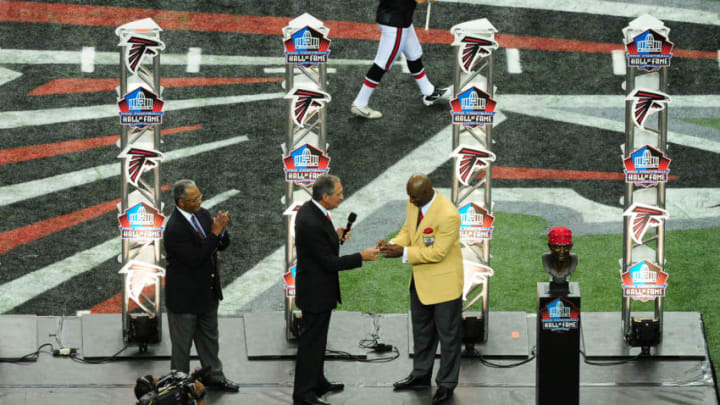 ATLANTA, GA - OCTOBER 16: Former Atlanta Falcon Deion Sanders is presented with his Hall Of Fame ring by team owner Arthur Blank at halftime of the game against the Carolina Panthers at the Georgia Dome on October 16, 2011 in Atlanta, Georgia. (Photo by Scott Cunningham/Getty Images) /
25 SEP 1994: ATLANTA FALCONS WIDE RECEIVER ANDRE RISON, IN HIS NFL 75TH ANNIVERSARY THROW BACK UNIFORM, SITS UP AFTER BEING BROUGHT DOWN BY A NUMBER OF WASHINGTON REDSKINS DEFENDERS DURING THE FALCONS 27-20 WIN AT RFK STADIUM IN WASHINGTON, D.C. Mandato /
Atlanta Falcons trickle-down
Once Deion is signed long-term, the franchise would have gone after wide receiver Andre Rison and locked him up as well. He was Deion on the other side of the ball and provided both talent and spark to an offense that lacked an identity in the early 90s.
The 1995 Atlanta Falcons team alone would have gone 15-1 had both Rison and Sanders been in an Atlanta Falcons uniforms. Sure, the 49ers and Cowboys were really good in 1995, but the argument can be made that the Falcons with Rison and Sanders were the best team in the league and would have made a lot of noise in the playoffs.
The 1995 team had five losses by four points or less, that changes with those two still on the roster. The Falcons more than likely would have had home-field advantage in the 1995 playoffs and would never have gone to Green Bay in the Wildcard game.