Atlanta Falcons Report: All but certain that Kyle Pitts is the pick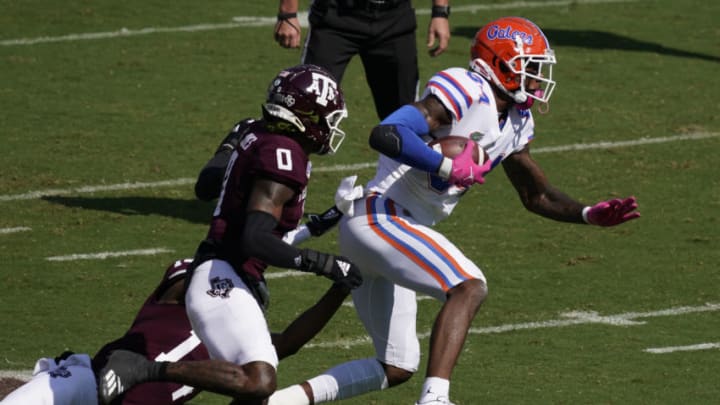 Oct 10, 2020; College Station, Texas, USA; Florida Gators tight end Kyle Pitts (84) runs after catching a pass as Texas A&M Aggies defensive back Myles Jones defends at Kyle Field. Mandatory Credit: Scott Wachter-USA TODAY Sports /
Multiple reports indicate that the Atlanta Falcons have made their choice when it comes to the 2021 NFL Draft and that it will be TE Kyle Pitts.
The Atlanta Falcons have put up a smokescreen throughout this entire draft process when it comes to their selection, but it seems that guard is coming down slightly as we inch ever so closely to the start of the draft Thursday evening.
The Falcons' official Twitter account posted that they were looking for 'an impact player' and while the franchise has been covering itself and leaving open the opportunity to take a quarterback, the truth is that they continue to show a major interest in Pitts.
ESPN's Jeremy Fowler and Dan Graziano reported that the Falcons are expected to stay at No. 4 in the draft and take Pitts and that they're looking at the possibility of taking a running back on Day 2, according to The Falcoholic.
Atlanta Falcons aren't smoke screening as much as we saw when the process began and Kyle Pitts is looking more and more like the pick
If the Falcons were looking to trade back or take a quarterback, it's not nearly as likely that you'd hear leaking information about the franchise taking Pitts.
Why? They'd want to leverage that draft pick to make sure they got the most out of it.
The more we hear and the more reports that surface here on Draft Week, the more it seems almost certain that Atlanta has seriously considered all of its options and has come away with the belief that Pitts is the best option with that pick.
If Pitts does prove to be the selection, he will instantly be able to upgrade the Falcons' offense and give them a legitimate weapon in Arthur Smith's new system.