Packers drama should make Atlanta appreciate Matt Ryan even more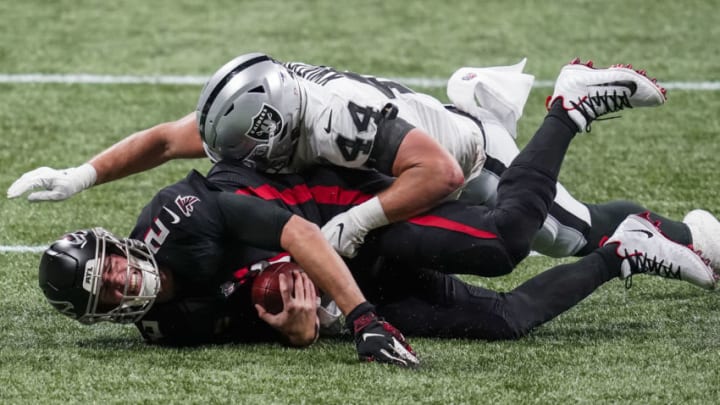 Nov 29, 2020; Atlanta, Georgia, USA; Las Vegas Raiders linebacker Nick Kwiatkoski (44) sacks Atlanta Falcons quarterback Matt Ryan (2) during the first half at Mercedes-Benz Stadium. Mandatory Credit: Dale Zanine-USA TODAY Sports /
While many continue to call for the Falcons to get rid of Matt Ryan, we should all take a moment to thank him for never bringing the type of drama that Aaron Rodgers has to the Green Bay Packers.
Even if Matt Ryan has been disgruntled with the way that the franchise has wasted the majority of his career, he has continued to lead this team without the private bashing of former general managers or head coaches.
As we are watching the drama in Green Bay unfold, when your highest-paid and the most glorified player decides to tear the walls down, it can destroy a franchise faster than bad drafts or signing free agents. While guys want to stay in the league, the majority of them would rather not head to a franchise where the star quarterback is ripping everyone to shreds.
Since Rodgers arrival in the NFL, he has had a chip on his shoulder. That chip early in his career drove him to be the best in the game and win at an elite level, but over the years, that chip has overtaken his life and it looks like it is all coming to a fireball ending.
Matt Ryan could only dream of having what Aaron Rodgers has in Green Bay
There are people that to this day still claim that the Green Bay Packers have never surrounded Rodgers with talent and that he has had very little to work with because they never spent a first-round pick on a receiver since drafting Rodgers.
Here is reality – Green Bay has surrounded him with a top-five receiver in Davante Adams, one of the two best offensive lines in the entire league, including the game's best-left tackle in David Bakhtiari, a 1,000-yard rusher in Aaron Jones, and a Top 10 defense. This doesn't even include tight end Robert Tonyan, who is among the five best at his position as well.
Imagine what Matt Ryan could do if the Falcons ever surrounded him with all of that at the same time. They would be unstoppable and Matt would finally get the respect that he has earned and deserves.
During his career with the Atlanta Falcons, Matt Ryan has been everything this fan base could have wished for. He has been dependable, productive at an elite level for more than a decade, gives everything that has every Sunday, and has been the most competitive leader on the field and in the locker room.
Despite all the head coaches, offensive coordinators, and wasted draft picks, Matt Ryan has never complained and never threatened to not come back. He has continued to play at a Hall of Fame level regardless of the circumstances thrown his way.
As the old saying goes – be careful what you wish for, you just might get it.