Atlanta Falcons are winners in a stat some may not realize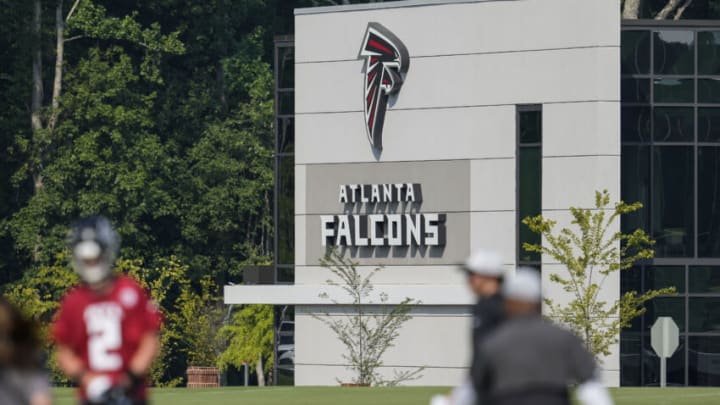 Jul 29, 2021; Flowery Branch, GA, USA; Atlanta Falcons signage shown during the first day of training camp at the Atlanta Falcons Training Facility. Mandatory Credit: Dale Zanine-USA TODAY Sports /
For our beloved Atlanta Falcons, most of us can agree on one thing: we're essentially what "Southern Steve" Stephen A. Smith thinks about the Cowboys: what can go wrong, will go wrong.
It's hard to deny that, especially considering how many leads of at least 10 points we've blown in the last decade (which should remain in the past, we're in a new decade of Falcons football now).
So, at first glance, the title of this article claiming our Falcons as winners could be misleading, correct? The team isn't the defending Super Bowl champions, or even the defending division champions – that being the Tampa Bay "Schmuckaneers" (a Paul Heyman quote) or the New Orleans "Aint's", respectively.
Well, here's the reason why the Falcons are winners. And it boils down to the one position most fans want the team to prioritize sooner rather than later: quarterback.
Take a look at this tweet by NFL Stats:
If it's hard to find our Falcons here, that's because they're in dead last for this chart, which is every team's number of starting quarterbacks since 2010.
The Atlanta Falcons finally won a miscellaneous stat!
It's no secret that Atlanta fans, and fans in general, give Matt Ryan grief about a plethora of what's been wrong with the team, even going so far as to insinuate that he was the only reason the Falcons lost the Super Bowl, but surprisingly forget that he was the MVP and set an NFL record for most touchdown passes to different players.
One thing that can't be argued about Ryan, however, is his durability. And given the importance of the quarterback position, the fact that since he was drafted the team has only seen two players under center (not counting trick play formations), that's another arrow in his quiver.
In fact, the only other quarterback to play for the Falcons just retired and was even spotted in the media area at training camp: Matt Schaub, who in his last start for Atlanta threw for over 400 yards passing in the loss to the Seahawks, the only game Ryan has missed since turf toe at the end of the 2009 season.
Heck, if we want to take a closer look at the division in general, Carolina has had the most starting quarterbacks in that same window, and that includes Cam Newton, who's currently "slinging the ball" in New England.
One might think the Buccaneers would've had more, but they've only had seven, even if their most recent one not named Brady was Defensive Player of the Year two years ago.
Finally, there's New Orleans, who claim they're better than our Falcons, yet somehow have had to deal with Brees' declining arm strength, which ultimately played a key role in their playoff demise. And their other "quarterback" is Taysom Hill, who's literally a gadget player at best with a decent arm.
In short, the Falcons and their fans finally have something to brag about to the rest of their divisional opponents, even if they want to hang that score above our heads forevermore. Just watch out for Atlanta this year: if Ryan stays healthy, we're going to turn some heads.