Atlanta Falcons: Jerry Rice talks about his feud with Deion Sanders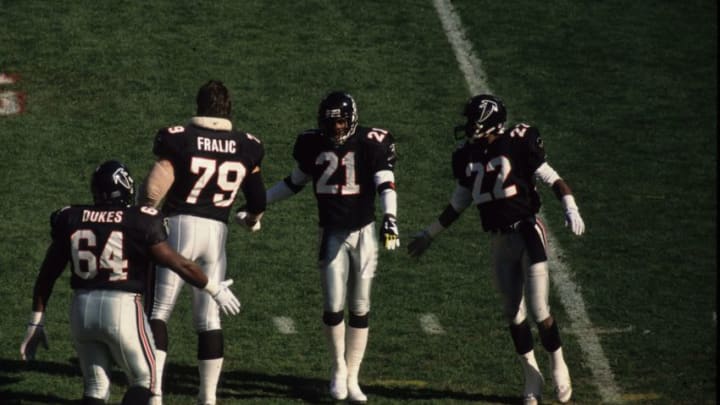 For the four years that NFL legend, Deion Sanders, played for the Atlanta Falcons, he was a lot of things—a lockdown corner, one of the biggest competitors, and one of the biggest personalities the NFL has ever seen.
There is no denying what Deion Sanders did on the field, he changed the game, he played multiple positions and even played two different professional sports.
Falcons and 49ers were division rivals and that boiled over onto the field
Before the NFC South came into existence as it is known now, the San Francisco 49ers and Atlanta Falcons were division rivals and it showed itself on the field, especially when it came to two of the greatest players to ever play.
Jerry Rice vs. Deion Sanders is probably the greatest wide receiver vs. cornerback matchup to ever happen. The two players are the best ever at their positions, no arguments there. They both had the utmost respect for one another, and that is apparent in a recent quote by Jerry Rice.
Recently, Jerry Rice spoke to Bally Sports Network's Brandon "Scoop B" Robinson on his rivalry with Deion Sanders:
"I recall one in Atlanta, and it was right before the snap of the ball. He's reaching out — he wants to shake my hand and I'm smacking his hand away like, 'Are you serious right now? Okay, we can talk AFTER the game, but right now we're enemies!'  This is mano-a-mano. And so, I'm slapping his hand away and stuff like that but we built a great relationship and it's something that we STILL talk about to this day, you know? Going against the best. Those sleepless nights. You're up processing the game in your head over and over and over and I was telling Deion that and he was like, "Well Jerry, you know what? I was also up playing the game over and over and over in my head because I knew that I was going up against the best…"  that's what we live for; those types of challenges and it was a LOT of fun and it's something that I'll never forget."
This quote sums up the two all-time player's personalities. Deion was a character, he loved to have fun, while Jerry Rice took his job very seriously, he wanted to beat Deion on every play.
It is a great quote, hearing how they still both remember it is funny and how they still laugh over it to this day.
It is impossible to have nothing but respect for both of these players and their differing personalities.