Atlanta Falcons could be a surprising fit for rival Cam Newton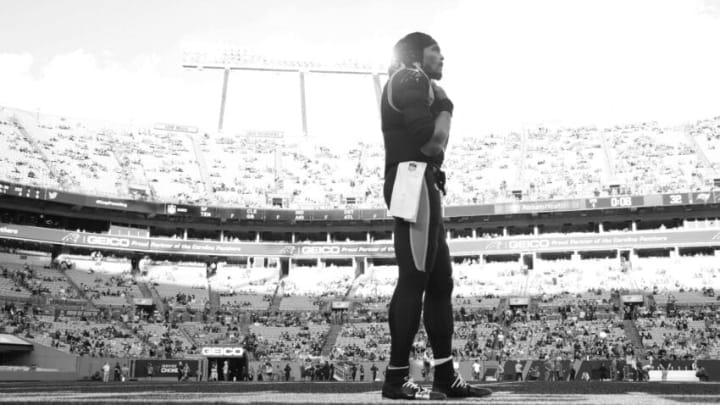 CHARLOTTE, NORTH CAROLINA - DECEMBER 26: (EDITORS NOTE: IMAGE CONVERTED TO BLACK AND WHITE) Cam Newton #1 of the Carolina Panthers watches from the sideline during the final minute of the team's final home game of the season against the Tampa Bay Buccaneers at Bank of America Stadium on December 26, 2021 in Charlotte, North Carolina. (Photo by Grant Halverson/Getty Images) /
The Atlanta Falcons are all too familiar with what Cam Newton is capable of. Despite the quarterback's recent struggles Atlanta will remember Newton for the power runs that too often left Atlanta fans wondering if anyone on their roster knew how to tackle?
It seems obvious Cam's time as a starting quarterback in this league is over. Despite getting a second chance with the Panthers Cam struggled and was replaced by Sam Darnold at the end of the season.
Cam is going to head into the off-season as a free agent that will have to realize another starting job is unlikely.
Cam Newton would be an upgrade over Josh Rosen and could play an important role for the Atlanta Falcons
Signing a division rival of Cam's level is unlikely but when you look at how much sense it makes for both sides it makes too much sense not to explore.  Newton in all likelihood will be looking for a backup or utility job this off-season.
If Cam is willing to accept such a role is there a more perfect team for Cam than the Atlanta Falcons? A team terrorized by short-yardage situations adding a player that has terrorized them in short-yardage situations is a move that would solve a lot of problems.
Even with all of his struggles this season there was no stopping Cam around the goal line or if he needs to get that one all-important yard. Having Cam as Ryan's backup is a considerable upgrade as well when you consider Josh Rosen spent the majority of the season as Atlanta's second option.
The one concern with this fit is just how obvious it is. Cam is a player who is yet to win a Super Bowl in his career and if he is willing to accept this type of role might be tempted to join a team like the Chiefs or Tom Brady's Bucs.
At the very least Atlanta should offer Cam a contract this off-season with a utility role on the table. Arthur Smith worked wonders with Cordarrelle Patterson and has made it clear he wants his offense to feature football players, not just traditional positional football.
Cam fits this strategy perfectly and would bring some much-needed excitement and energy to an Atlanta Falcons offense that has often become boring.  Signing Newton would end Atlanta's struggles to get that one extra yard they always fail to find and bring a fun wrinkle to an offense that needs to find help this off-season.