The Falcons are doing what their rival is refusing to do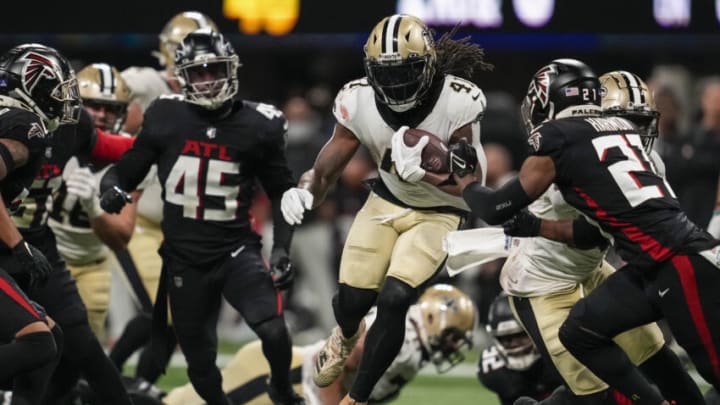 Jan 9, 2022; Atlanta, Georgia, USA; New Orleans Saints running back Alvin Kamara (41) runs against the Atlanta Falcons during the second half at Mercedes-Benz Stadium. Mandatory Credit: Dale Zanine-USA TODAY Sports /
The Atlanta Falcons brought in a new regime last year after their previous one continued to dig the franchise into a hole while also not producing. Terry Fontenot has made it a priority to start from the beginning with this roster, unlike the New Orleans Saints.
The Falcons are taking the smarter approach here, they realized that their chances to win the Super Bowl the way they were going were slim to none, so they have torn it down and will build for the future.
The Falcons made the hard decision that will prove to be the right decision
Atlanta's staff decided to trade away Matt Ryan and Julio Jones, those could not have been easy decisions to make. It also put out a strong signal that they were tearing down the roster so they can build it from the foundation up.
They allowed guys like Foye Oluokun and Russell Gage to walk in free agency, something the previous regime would not have done. They saw that those guys deserved a lot of money and did not fit what they were doing. Giving them big deals would have set them back a step.
Next year they will have plenty of money to bring in many high-level players. If they can develop their young guys and continue to draft well, they should have this thing rolling in the next few years. The Falcons won't have just a good team, they will have a good, young team that can have sustained success.
Meanwhile, their bitter rivals, the Saints are doing the exact opposite. Despite having little cap space, they are making big free agent signings that will come back to haunt them in the near future.
Each season the Saints are WAY over the cap, and while they always find a way to get around it, it still affects their team. No matter what people say, it does have a compound effect on their team and their future.
Just look at how they couldn't resign players their cornerstone players—Terron Armstead and Marcus Williams.
Instead, they continue to make puzzling veteran free agent signings like Tyrann Mathieu, Marcus Maye, and Jarvis Landry. They also traded a lot of future draft picks in order to get a number two receiver this year.
No longer do they have Drew Brees, instead, they have Jameis Winston who is coming off a significant injury and is not the most reliable starting quarterback. It would be shocking to see Winston take the Saints deep into the playoffs.
Elsewhere on their roster, they have a receiver who has not played in two years, a running back who missed significant time last year and is due for a suspension, a quarterback coming off of a big injury, and numerous older players who will see their play decline sooner than later with the likes of Demario Davis and Cam Jordan.
Throw in the fact that Sean Payton retired and was replaced by Dennis Allen who has a head coaching record of 8-28, and it becomes obvious that the Saints are set up for disappointment.
The purpose of this article is to show that the Falcons are making the right move by "rebuilding." While it might be painful for a year or two, it would have likely been the same if they did not tear down the roster. The Falcons and Saints have two totally different approaches, but the Falcons are making the best decision when it comes to future, sustained success.
New Orleans might have much more success than Atlanta for a couple years but their salary cap is in a horrible place, they have aging players, and all of this while having a roster that is not among the best in the league. Soon the Saints will be in a dark hole due to their refusal to reset like the Falcons.
Terry Fontenot made the best decision for the Atlanta Falcons, and the Saints will quickly show everyone why.