Falcons fly high early, crash down hard against Saints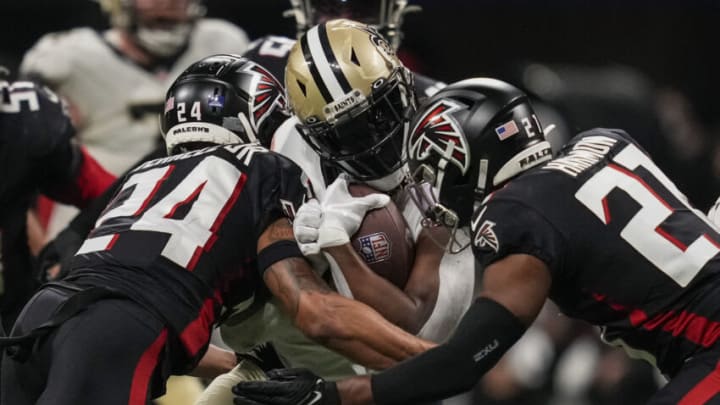 Jan 9, 2022; Atlanta, Georgia, USA; New Orleans Saints running back Alvin Kamara (41) is tackled by Atlanta Falcons cornerback A.J. Terrell (24) and safety Richie Grant (27) during the second half at Mercedes-Benz Stadium. Mandatory Credit: Dale Zanine-USA TODAY Sports /
Week One for the Atlanta Falcons. The first test on your schedule after a preseason in which starters barely played yet the team went 2-1 in. Enter the New Orleans Saints, the most hated rival in franchise history, a team that was 1-7 against Atlanta in the first week of the season.
Yet, the story will read what it always does: same old Falcons.
In yet another unprecedented game, the Falcons, who held a 26-10 lead entering the fourth quarter, saw Jameis Winston, Michael Thomas, and Jarvis Landry torch the secondary, clawing back for 17 unanswered points, and sending the Falcons fans in Mercedes-Benz Stadium home with a sting that won't go away for a long time.
Early in the game, as is customary, the Falcons started with the ball and looked okay on offense. A couple of good runs set up the traditional field goal by the NFC's best kicker, Younghoe Koo, and the defense forced a three-and-out. However, after punting on their next drive, the ultimate kryptonite not named "Blown Lead" made an appearance: Taysom Hill. The gadget player ran for 68 yards on two plays to give the Saints an early 7-3 lead.
From there, Mariota and Cordarrelle Patterson just began gouging the Saints defense, pummeling them with big runs that led to the only two touchdowns for Atlanta, a five yard scamper by Patterson and a two yard sneak by Mariota.
Outside of that, Atlanta just couldn't make much noise inside the 20. Despite having the "Twin Towers", as Kyle Pitts and Drake London want to be known by, they combined for a grand total of 93 yards on seven catches, none of which came in prime territory for a score.
Furthermore, in terms of overall team stats, here's where the Falcons were better:
First downs (26 to 18)
Total yards (416 to 385)
Rushing yards (201 to 151); this stat arguably the most impressive positive because it snapped the Saints' streak of 20 games without surrenduring 100 yards to a single player
Time of possession (33:44 for Atlanta, 26:16 for New Orleans)
Yes, it's important to note that these "team stats" are miniscule to the final score. What it shows is that Atlanta had plenty of chances to finish off their most hated rivals and failed.
There were plenty of miscues throughout this contest early which should've spelled doom for Atlanta early. On their second possession, Olamide Zaccheaus runs a perfect route but fumbled the football, and the team was bailed out by a missed 44 yard attempt by Wil Lutz. Then there was Mariota after the Falcons forced a huge fumble in the third, and on a third down from inside the Saints 15, he scrambled left but failed to slide, and the ball was punched out with the Saints recovering.
The ultimate dagger though? On a third down with the Saints out of timeouts, Mariota took a snap from directly under center, bobbled the snap (do NOT blame Dalman; the offensive line was phenomenal all game) and couldn't get the first down. And instead of going for it, Smith opted for a delay of game penalty which ultimately prevented the Falcons from closing it out.
Even with the team getting the ball back with 23 seconds left and Marshon Lattimore being completely undisciplined, which gave the Falcons one chance for a game-winning 63 yard field goal, the Saints blocked it. Granted, on kicks that long, kickers usually have to lower the trajectory angle, which leads to easier opportunities for blocks.
The play of the secondary in the fourth quarter completely invalidated something Falcons fans have been clamoring for since 2012: a competent pass rush. In the first three quarters, Grady Jarrett had two sacks, Mykal Walker had one, and rookie Arnold Ebiketie had one in his debut.
The aggressiveness by the front seven legitimately had the entire stadium rocking, and given that they got over 1/6 of their total sack production from last season in this game alone, it's unfathomable that they lost.
Furthermore, AJ Terrell, who is still a very good cornerback, got manhandled by the returning Michael Thomas late, surrendering three catches (two for touchdowns in very tight man) and temporarily halting any conversation about him being in Jalen Ramsey's realm (despite him getting torched in his own right).
That said, the standard of playing conservative defense late in games also played a role. This falls on Dean Pees and the entire coaching staff for failing to adjust.
It's one thing when a team loses two-score games against teams who aren't in their division. It's another entirely different animal when it's against your hated rival, on your field, and you're destroying them early. Keep in mind, last year the Falcons also blew an 18 point lead to these Saints on their field, but a miraculous 64-yard catch-and-run by Patterson saved their butts.
And now, the Falcons once again start a season 0-1 with the same narrative: when a lead needs to be evaporated, call 404-***-****. It'll always be answered.
Up next: the Los Angeles Rams. In SoFi Stadium. Where they were just eradicated by the Buffalo Bills.