Atlanta Falcons: Former Clemson CB A.J. Terrell looking for revenge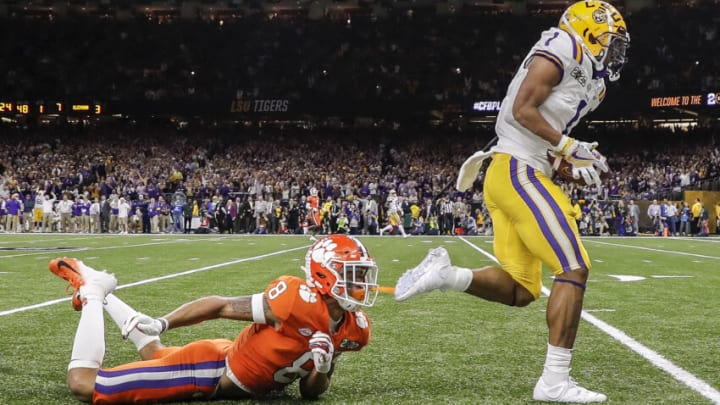 NEW ORLEANS, LA - JANUARY 13: Wide Receiver Ja'Marr Chase #1 of the LSU Tigers makes a catch over Cornerback A.J. Terrell #8 of the Clemson Tigers for a touchdown during the College Football Playoff National Championship game at the Mercedes-Benz Superdome on January 13, 2020 in New Orleans, Louisiana. LSU defeated Clemson 42 to 25. (Photo by Don Juan Moore/Getty Images) /
Following an injury scare among the Atlanta Falcons cornerbacks, A.J. Terrell has been cleared to play against the Cincinnati Bengals, while two others have been declared out.
For Terrell, there was no chance that he would sit this game out because it is so much more than just an average game for him, it is a game where he is looking to get revenge on a certain player.
This storyline dates all the way back to 2020 in what was A.J. Terrell's final game as a college player as he went on to become a first-round pick by the Atlanta Falcons.
Former Clemson Tiger A.J. Terrell looking for revenge in Atlanta Falcons, Cincinnati Bengals matchup
When the Atlanta Falcons selected A.J. Terrell with the 16th overall pick in the 2020 NFL Draft they received a ton of flak for "reaching" on the former Clemson Tiger.
I must brag by saying that I loved the pick from the very minute that his name was called as I honestly felt he was the best corner in the entire draft — yes, even better than Jeff Okudah who was regarded as a generational talent and went on to become the third-overall pick by the Detroit Lions (many people may not believe me and I will admit that I have no proof that I actually thought that, but take my word for it, I did honestly believe that Terrell was the best in the draft).
And now here we are in 2022 when A.J. Terrell has been the most impactful defensive player selected in the first round of the 2020 NFL Draft.
The harsh criticism of A.J. was simply drowning in recency bias as the last time anyone saw him on the football field, he was running sprints up and down the field trying to catch up to Ja'Marr Chase during the 2020 College Football National Championship Game.
However, people failed to realize that Terrell had a fever and was simply ill and the simple fact that he really wasn't torched as badly as the box score would indicate.
Joe Burrow started the game slowly but once he got in sync with Ja'Marr Chase, absolutely no one on planet earth was going to stop them. However, A.J. Terrell, to his credit, tried his absolute best. He routinely had good coverage but anyone that has watched football knows that good throws and good catches always beat good coverage, which is exactly what happened in that game.
Burrow's throws were perfect, Ja'Marr Chase made even better catches, while Terrell was left behind wondering what in the world he could ever do to stop the duo. As a Clemson fan, sad to say, there was nothing he or the team could have done. Once those two were settled into the game, Clemson lost any hopes of becoming the kings of college football once again.
Joe Burrow ended that game against a strong Clemson defense with 521 total yards and four touchdowns while Ja'Marr Chase hauled in nine catches for 221 yards and two touchdowns. As I said, they were on fire.
This makes Sunday's game extra meaningful for the Atlanta Falcons' star corner A.J. Terrell, as he will be trying his hardest to take down Joe Burrow, Ja'Marr Chase, and the Cincinnati Bengals, so that he can have the NFL bragging rights over them. Expect him to play his tail off as we all know that he certainly remembers how his final game with the Tigers went down.
Hopefully, this game will knock out some of the inconsistencies A.J. has been showing this year following what was literally one of the greatest seasons a cornerback has ever had during his sophomore season.