Atlanta Falcons clearly should keep Arthur Smith for 2023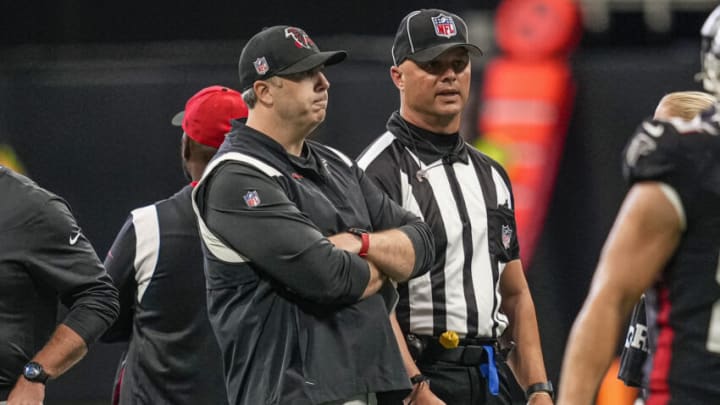 Sep 11, 2022; Atlanta, Georgia, USA; Atlanta Falcons head coach Arthur Smith talks with an official on the field prior to the game against the New Orleans Saints at Mercedes-Benz Stadium. Mandatory Credit: Dale Zanine-USA TODAY Sports /
Despite the continued close losses for the Atlanta Falcons this season it is hard to see any scenario in which Arthur Blank decides to pivot away from head coach Arthur Smith. While Smith has been far from perfect this season he has already exceeded many pundits' win expectations for the Falcons and back-to-back seasons kept the team relevant with what have objectively been bad rosters.
Smith has made late-game mistakes and the questionable decision of keeping Mariota as the starter this season. However, the good clearly far outweighs his shortcomings and should earn him another season no matter what happens in the final four games of the year.
Smith is yet to have the ability to operate this Atlanta team with full cap space or a reliable quarterback. Ryan struggled in his final season with the Falcons and had zero reliable targets or protection. Marcus Mariota has somehow managed to be a downgrade and struggled to complete simple college throws making Atlanta's offense increasingly predictable this season.
Whether or not Ridder is the franchise quarterback Atlanta hopes he is Smith has earned one more season to show what he can do with a fully built roster.  Smith dealt with a record-setting amount of dead cap this season and still managed to keep the Falcons competitive for a time.
While a lot of their ability to stay in the playoff race has been due to a terrible division Smith still deserves immense credit. Heading into the season the Falcons were projected by many to be the worst team in the league with no hope of making it outside the top three draft picks much less contending in the wildcard race or the division.
Atlanta has a clear path to seven wins a season after matching that total with arguably a worse roster this season and without question a more difficult schedule. Arthur Smith has proven he is capable of getting the best out of a below average roster. Next season it is time to see what he can accomplish with a roster with playoff potential.