Atlanta Falcons: Mercedes-Benz Stadium may cause more harm than good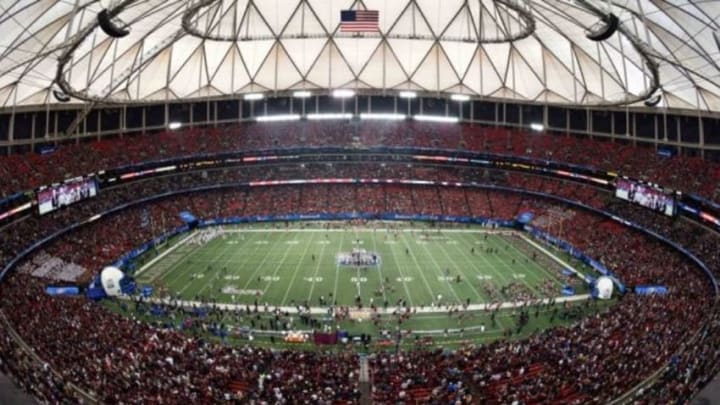 Dec 31, 2015; Atlanta, GA, USA; A general view of the Georgia Dome during the coin toss prior to the game between the Florida State Seminoles and the Houston Cougars in the 2015 Chick-fil-A Peach Bowl. Mandatory Credit: Dale Zanine-USA TODAY Sports /
For the Atlanta Falcons, the franchise has quickly taken on more and more fans after decades of being a forgotten team in the NFL. But when Arthur Blank took over as owner, there has been a sense of rejuvenation sent through this organization that is backed by a man hungry to restore the athletic roots and attraction to the city of Atlanta. And now we have another attraction: the Mercedes-Benz Stadium. But, to Atlanta fans, this could be a bad sign for them.
A report that was recently released stated that the construction of the new Falcons' home is not only behind by a couple of months, but the costs are also more than a half a million dollars over the proposal made to the city. For the city of Atlanta, there could be some hidden oversights that may haunt the fan base for years to come.
With every new spectacle that is created in the sports world, the costs will already be one of the myriad changes coming to these Atlanta fans. And, despite the allure and grandeur of the flashy lights and a 100-yard bar, the increases in everything associated with the Mercedes-Benz Stadium is about to see a massive growths that could make this stadium lose its home-field advantage as the regular, non-season-ticketholders struggle to make uproars throughout the gigantic facilities.
Next: 3 underrated players to watch for at the Senior Bowl
The Georgia Dome has seen its fair share of ups and downs in its career of being the home for our Atlanta Falcons, and, as we see the days drawing to a close of those historic days, let's just hope that the effects of having a flashy, new toy in the Atlanta area will not cause too much harm to a fan base whose economy may be struggling.
What are your thoughts on the new stadium? Are you a fan of it or are you against it?