Falcons fans should be excited for Super Bowl 53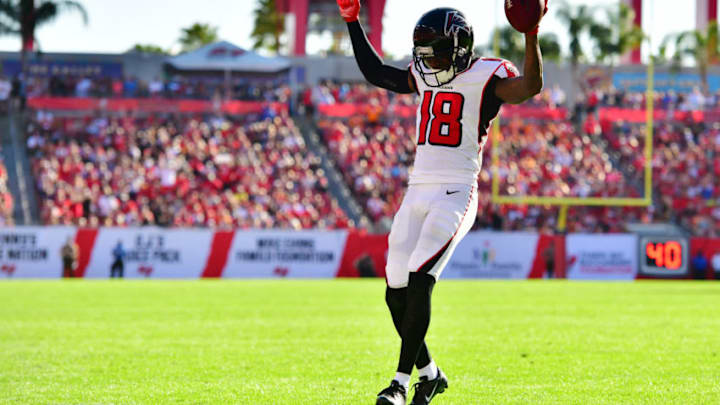 TAMPA, FLORIDA - DECEMBER 30: Calvin Ridley #18 of the Atlanta Falcons celebrates as he runs into the endzone to score during the fourth quarter against the Tampa Bay Buccaneers at Raymond James Stadium on December 30, 2018 in Tampa, Florida. The Falcons won 34-32. (Photo by Julio Aguilar/Getty Images) /
Historian Thomas Fuller once said "The darkest hour is just before dawn" and I am not sure I knew just how true this quote was before February 5, 2017. I am sure like most of you I have had my fair share of ups and downs as a sports fan, but none like that day.
My teams have won championships and have had heartbreaking losses throughout my life. However, none will ever be quite like February 5, 2017.
I don't bring that date up to put you through more misery, I promise. I bring that date up simply because we have been living in our darkest hour for the last 723 days. Matter of fact, it has been more of a nightmare really.
From that epic comeback by Tom Brady in 2017 to falling short on the goal line in 2017 versus the eventual Super Bowl Champions to losing every great young player on this roster in 2018, our darkest hour has drug on and on and on.
I don't believe in sports curses, but I do believe in processes. Teams don't get to go from 4-12 to Super Bowl champs in two years. Teams (fans) must experience heartache to appreciate all that comes with being on top.
The last three seasons have been our process. The last three seasons have been our trial by fire. The last three seasons have been our darkest hour.
2019 will be our year. Deion Jones, Keanu Neal, Devonta Freeman and Robert Alford will all be 100 percent. Calvin Ridley and Ito Smith will be a year older and wiser to the ways of the NFL. Matt Ryan will have an offensive coordinator he has a comfortability with and Dan Quinn is getting back to his roots and will coach this defense full of talent from the front to the back.
While our Falcons aren't playing in Super Bowl 53 in our stadium, in our city, in our backyard, enjoy the festivities and enjoy the game knowing 2019 will be our year to lift the Lombardy Trophy and our darkest hour will give birth the dawn of a new day.