Atlanta Falcons mock draft: Terry Fontenot goes offense early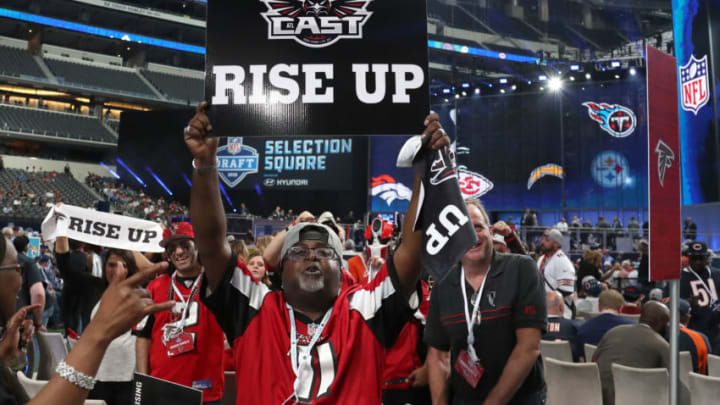 Apr 26, 2018; Arlington, TX, USA; Atlanta Falcons fans cheer prior to the first round of the 2018 NFL Draft at AT&T Stadium. Mandatory Credit: Matthew Emmons-USA TODAY Sports /
We are just under 10 days left until the Atlanta Falcons will submit their draft card and have Roger Goodell announce who will be the future for their franchise.
No doubt this is an important draft the Falcons have had in a while, when you pick fourth overall, that signals that you have problems within your roster. New general manager, Terry Fontenot cannot afford to make a blunder on this selection. This will shape the future for the Falcons, whether good or bad.
The Atlanta Falcons have numerous holes, particularly at edge rusher and left guard. While they also need to add talent at the safety position and add depth across many positions.
This is an interesting draft class as there is not an absolute slam dunk at the edge rusher position like there has been in years past with the likes of Nick Bosa, Joey Bosa, Chase Young, and Myles Garrett among many others.
This is truly unfortunate for the Falcons as they have a top-five pick for the first time in a long while and they haven't been able to find a true star when it comes to getting to the quarterback
In fact, there really is not much talent on the defensive side of the ball worth a top-five pick. That is not a good thing for the Falcons who need to get their defense in order. It seems highly likely that Atlanta will end up taking an offensive player. Many fans are hoping that to be a quarterback for the post-Matt Ryan era, would almost certainly make it so the first four picks in the draft were quarterbacks.
There most definitely could be numerous teams willing to trade up with the Atlanta Falcons who are wanting to get the fourth quarterback in the draft. Whether or not they offer enough to make Terry Fontenot feel it is worth it, remains to be seen but it is certainly something they are entertaining.