Atlanta Falcons: 48 hours until the draft and only one player makes sense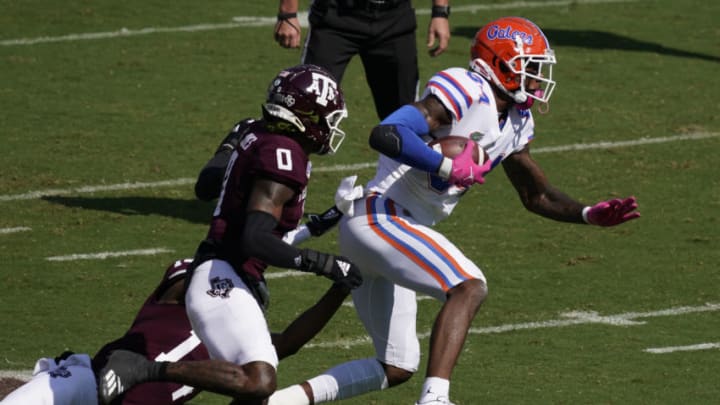 Oct 10, 2020; College Station, Texas, USA; Florida Gators tight end Kyle Pitts (84) runs after catching a pass as Texas A&M Aggies defensive back Myles Jones defends at Kyle Field. Mandatory Credit: Scott Wachter-USA TODAY Sports /
As we approach the final 48 hours before the 2021 NFL draft, final mock drafts are being published at warp speed and most of them say the same thing – expect the Atlanta Falcons to draft Florida tight end, Kyle Pitts.
With the jarring news that came out Tuesday that the Atlanta Falcons are fielding phone calls to trade future Hall of Fame wide receiver Julio Jones (confirmed by general manager Terry Fontenot), this pick makes the most sense for the club given they want to try and maximize the final few years of Matt Ryan's professional career.
While many Falcon fans have expressed their desire against this happening, given their financial situation and his contract, it makes the most sense as does essentially his replacement.
Kyle Pitts is a receiver labeled as a tight end and will be a star for the Atlanta Falcons
In case you missed it, Kyle Pitts ran a blazing 4.44 40 yard dash at the Florida pro-day a month ago. At 6-foot-6 and 240 pounds, that is absolutely insane. If you remember a decade ago, the 6-foot-3 220 pounds Julio Jones ran a 4.39 40 yard dash, albeit with a fracture in his foot.
There won't be much that Pitts cannot do on an NFL field and whether he ever gets to play with Julio in Atlanta is beside the point. If Fontenot is indeed going to draft the "best player available" then that pick will in fact be Kyle Pitts fourth overall.
People seem to get caught up by the tight end label for Pitts and because a tight end has never been taken in the Top 5, many don't think he should be the first. However, when you look at what he would bring to the offense, it doesn't make sense NOT to draft him.
There are also others who claim he will do nothing for the Atlanta Falcons defense and other than helping the offense extend drives, score more points, and giving defenders much-needed breaks that they have not gotten in the last three seasons, they may be correct.
If the Atlanta Falcons are truly going to draft the best player available, drafting the second-best player in this draft at fourth overall is the only way to go. Drafting the fourth-best quarterback and not the best available player truly makes no sense from a philosophical standpoint.
A lot can happen over the next 48 hours, but one thing is for sure, Atlanta Falcons fans will be on pins and needles as we wait for them to be on the clock.