Atlanta Falcons: Most fans don't care if practices are "open"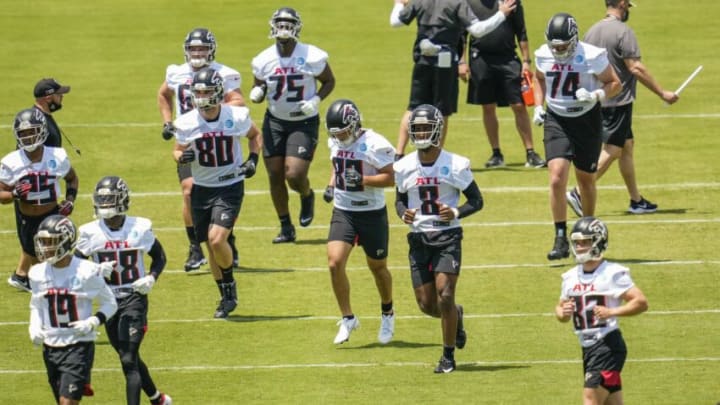 May 14, 2021; Flowery Branch, Georgia, USA; Atlanta Falcons tight end Kyle Pitts (8) runs with teammates on the field during rookie camp at the Falcons Training Facility. Mandatory Credit: Dale Zanine-USA TODAY Sports /
The Atlanta Falcons will only host a handful of open practices during training camp and that has led to some around the city complaining.
When comparing the open practices by the Atlanta Falcons to the other franchises around the NFC South, it is understandable for fans to be annoyed that the Falcons will have fewer open practices when compared to the Panthers, Saints, and Bucs.
In tweets since deleted, the Falcons expert for the AJC, D. Orlando Ledbetter was complaining about the open practice availability. This is an odd complaint given he is credentialed and has access to the team.
Honestly, who cares?
It is Georgia in the late summer months. Being outside in the heat and humidity is not a fun time for anyone and especially a team that is coming off three straight losing seasons. To quote NBA legend Allan Iverson – we talkin' bout PRACTICE.
For those that want a chance to see the Atlanta Falcons practice and don't want to sit in the heat, you can always pay $5 and head to Mercedes Benz Stadium on August 7th and watch the team indoors out of the heat and humidity.
Atlanta Falcons fans care more about winning not watching practice
If completely closing off Atlanta Falcons practice to fans meant the team would win the NFC South and make another NFC Championship game appearance, you would be hard-pressed to find a single fan in the metro area that would complain. (Of course, someone would, because some just love to complain)
Fans understand that this is a different time around the world. Not only are the Atlanta Falcons having to break in a new offense and defense, but they are still dealing with COVID-19.
After the confirmed rumor that teams could forfeit games in 2021 for covid outbreaks, it would not be shocking to see all teams cancel all open practices – especially since not every coach or player has been vaccinated.
With training camp less than a week away, the season is almost here and 2021 will write a new chapter of Atlanta Falcons history – even if practices aren't open to the public.