NFL's top five players who were drafted by the Atlanta Falcons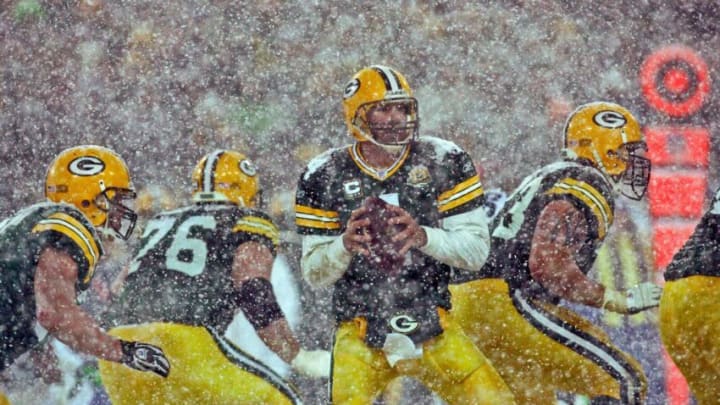 Green Bay Packers' Brett Favre looks for a receiver in heavy snow during game against the Seattle Seahawks at Lambeau Field Saturday, January 12, 2007.Packers13 Spt Sieu 17 /
Green Bay Packers' Brett Favre looks for a receiver in heavy snow during game against the Seattle Seahawks at Lambeau Field Saturday, January 12, 2007.Packers13 Spt Sieu 17 /
2) Brett Favre – Drafted in 1991
The one and only player on this list who made almost no impact for the Atlanta Falcons during his time with the team.
Many forget that Brett Favre was drafted with the 33rd overall pick by the Falcons in 1991, and he did nothing for the team. In fact, he actually hurt the team. His first pass in the NFL was intercepted and taken back for a touchdown.
With the Falcons, Brett Favre was zero for four in passing attempts with two interceptions. That is about as bad as it gets and yet it was probably the best thing to happen to him as this likely played into the team's decision to trade him to the Packers after just one year.
He went on to win a Super Bowl, win three MVPs, make three All-Pro teams, make 11 Pro Bowls, and become a member of the Pro Football Hall of Fame. Guarantee the Falcons coaching staff did not see that coming.
Who knows what his career would have ended up like if he was never traded but you can only imagine that it would not have been nearly as successful. Favre getting traded was probably the best thing to ever happen to him, it turned his career all the way around, and you can guarantee that Brett is glad he was traded.